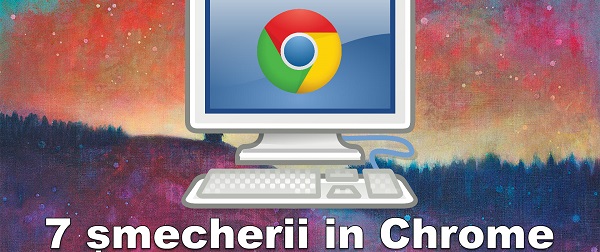 What is a web browser?
The web browser is an application that knows how to open html pages, scripts, images, which can play video, etc., etc.
No problem can be said that the web browser is the most used application on desktop platforms, where we do not have dedicated applications for Youtube, Facebook, etc.
The browser is basically our window to information, news, blogs, vlogs, movies, etc.
Which is the best browser?
I made a comparison some time ago about "which is the best browser"But that doesn't matter. The main factor in anything today is popularity.
Without a doubt, Google Chrome is the most popular web browser and that's why I decided to do this 7 tutorial with useful features on Google Chrome desktop.
7 stuff stuff in Google Chrome
Shortcuts or shortcuts - you can make shortcuts on the desktop or in the taskbar for your favorite sites.
Home button - missing, can be brought back and customized according to preferences.
Task Manager - yes, Google Chrome has an activity manager where you can see who, what and how much they eat.
Search directly from the selected text - by selecting a text and right click you can search directly for the phrase or the text (a kind of rudimentary anti-plagiarism weapon)
Visit a cached site - useful when you no longer have a net but you know that you have recently visited a certain page that you want to reread.
Saving Pages in PDF Format - useful for saving tutorials, recipes or various guides in PDF format, for later reading even offline.
Customize the Home page with wallpapers or a picture of yourself.
Other browser-related tutorials:
video tutorial
7 Merchandise Stuff in Google Chrome - Video Tutorial