Turn on OpenGL Skies for better performance in Android games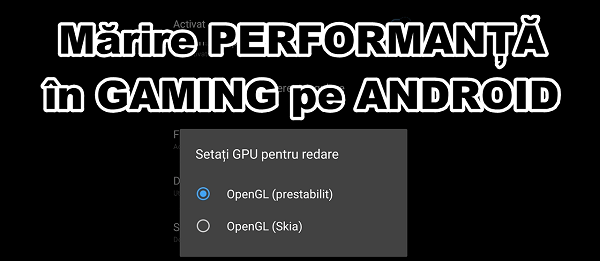 Enable OpenGL Skia for better performance in games and the Android interface
Games on mobile platforms (Android and iOS) have seen incredible growth in just a few years. If the games were quite simple at first, like 80 PCs, these games have now become extremely complex.
Games on Android or iOS are almost like those on your PC or consoles.

Because games on the mobile are currently very complex, resource consumption has also increased. If top phones have no problem running the latest titles, the older devices are pretty much scowled with jerky pictures that lead to an unpleasant experience.
Most gamers do not have the hottest phones.

Because not everyone has top phones, Google has found a solution to offer a small performance boost to those with weaker phones. This setting brings an increase in gaming performance provided we have the Oreo Android OS or newer. On older versions of android, this setting is not available.
Switching from the OpenGL graphic engine to OpenGL Skia.

The OpenGL Skia graphic engine can be activated from:
Settings / Developer Options / Hardware Acceleration Playback / Set GPU… / choose OpenGL Skia here
Bonus, Cache Empty Settings and Interface Speed ​​Enhancement.

Except the setting that activates the graphics engine OpenGL Skia, there are two important settings that will make your Android move faster.
1. Clear the cache from: Phone Settings / Storage and Memory / Cached Data. Cached data is no longer useful, so you can delete it without problems.
2. Increase animation speed and window transition from: Developer Options / Drawing / Animation Scale…, Transition Scale…, Duration Scale…, set them all to 0,5 or animation disabled, but everything will move too abruptly if you disable it; I think 0,5 is perfect.
Related Tutorials:
Activate OpenGL Skia for better performance in Android games - Video Tutorial