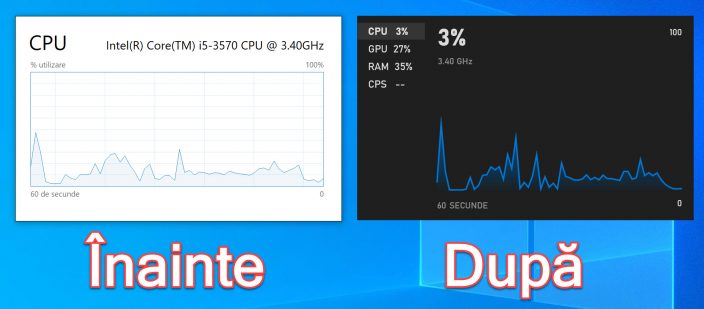 What is the video hardware information display tutorial permanently on the screen?
In the video tutorial Display hardware information permanently on the screen you will see how, without third-party applications, on Windows, we can display the hardware information of interest, permanently on the screen.
Why do we need to display hardware information all the time on the screen?
As with cars, where we have the dashboard, where the most important data are displayed, such as: speed, engine speed, fuel level, etc .; Also on the PC, it is good to know at any time what is happening under the "hood".
How can information about hardware parameters be displayed on PC / Windows?
The old method was to use the Task Manager, but unfortunately this method is a bit limited, in the sense that you can only display certain components in a row, and besides we didn't even have the option to have transparency on the hardware information panel. In the latter case, the window that should help you, with the display of the processor load, video card, ram, etc., confuses you worse, because you no longer see what you are doing on the desktop or in applications / games.
Xbox Game Bar is the method by which we can always see on the desktop, the hardware parameters.
How do I activate the hardware info window in the Xbox Game Bar?
Start / search for "Xbox Game Bar" / Enable "Performance" on the bar, change the panel size and position, and press the PIN to keep the panel fixed on the screen
You also have options where you can change the transparency of the window and the color of the characters.
Similar hardware tutorials:
Video Tutorial - Display hardware information permanently on the screen