Earthquake alert on the phone ahead with 30 seconds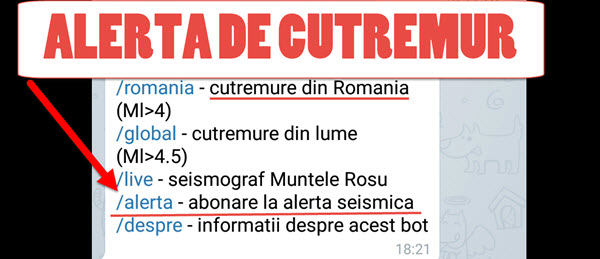 Earthquake alert on the phone ahead with 30 seconds
Earthquakes in Romania
Romania is a country where earthquakes have made many victims and material damage. You have here A list of all the major earthquakes that have been noticed through casualties and damage.
Predicting or Anticipating Earthquakes.
From time immemorial, people have been thinking of ways to predict or anticipate earthquakes, so that measures can be taken to reduce casualties and damage. The only method of "alarm" and not prediction, is monitoring the seismic area with problems and alerting the authorities or the public even when the earthquake occurs.
There has long been a warning system a few seconds before the earthquakes, but it is used to close critical points that could be affected (nuclear power plant, hydro power plants threatened by seismic waves, gas supply, etc.)
How does the 30 alarm happen for seconds before the earthquake?
Now, thanks to modern communications, a data packet (SMS, call, message) can reach its destination faster than the seismic wave propagating like the waves after a stone has been thrown into the water. In other words, the earthquake has a lower speed and we can gain time.
How can we get notifications before with 30 seconds of earthquake?
National Institute of Research and Development for Earth Physics Has developed a Chat boot Who announced before with 30 for seconds that we felt the earthquake.
Earthquake alert on the phone before with 30 for seconds to happen
Chat bot
This bot chat offers all sorts of exciting features such as:
/ romania - information about earthquakes in Romania
/ global - information about earthquakes at international level
/ live - live images with the seismograph from the red mountain
/ alert - here you can receive notifications before the earthquake
/ about - information and advice in case of an earthquake
How do we get the earthquake notifications on the phone?
1. The Chat Bot works with the Telegram app, which is available for free in the App Store and Play Store, for iOS and Android.
2. Install and open the app, and tap on the search @alertacutremur_bot and click below on "earthquake_bot_alert"
3. Press start (down)
4. Choose option / alert
5. You must further read and agree to the terms and conditions
6. After accepting the terms and conditions, you must fill in the phone number and email address
7. Once you have finished with terms, phone number and email, you will see 4 channels where you can receive notifications
8. Choose the channel by magnitude, or you can subscribe to all channels, and regardless of the magnitude of the earthquake you will receive a 30 notification of seconds before it happens.
Update for those who read and do not understand what they are reading.
The Telegram application is free.
Bot does not cost anything, it's free.
In conclusion, it's free, that's free.
However, in terms and conditions, operators may charge the packet data fee. That means the mobile net can cost, but that's what everyone understands, it's at the cock's mind. Want net, pay for a subscription, you want a mobile net, pay a subscription with included data, or you have data included on the card. This is an account that everyone does.
There are some on YouTube who started to swear on this stuff. UGLY!
Earthquake alert on the phone 30 seconds before it happens - video tutorial