Apps for AMOLED screen off, battery saving, round corners
Today I have some apps for you that can highlight AMOLED screens.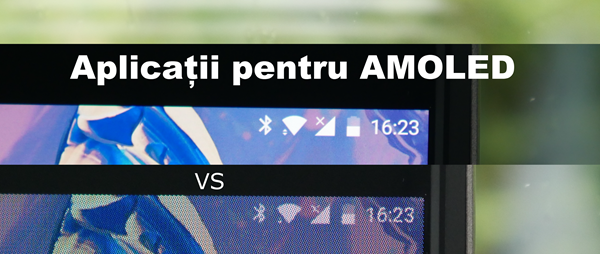 What is an AMOLED screen?
The AMOLED screen consists of small LEDs that have their own light. Each sub-pixel in part is a small led that turns on, goes out or adjusts gradually to obtain a certain amount of intensity.
On everyone's language: The AMOLED screen consists of small lights that light up individually.
How is AMOLED different from LCD?
The LCD screen consists of a layer of liquid crystals that are backlit by a luminous panel. Pixels on LCDs do not have their own light, as is the case with AMOLED.
Advantages AMOLED.
Colors are much livelier
The far more colorful beach
Contrast is much higher than on LCD
The black level is maximum
Pixels can stop individually
Disadvantages AMOLED.
On older screens we find "Pixel Burn in", ie areas of the screen with images, graphics, static icons. These problems are not very common today.
If you have a Pixel Burn In phone, you can partially solve the problem with the app AMOLED Burn-in Fixer or similar applications.
Apps that highlight AMOLED screens.
Although there are many more applications that make AMOLED technology worthwhile, I chose 4 applications today, which I found interesting and useful.
1. Blackr - turns off the screen completely, while the applications are running on the screen (example-youtube with the screen off)
2. Pixel Filter - Battery saving by turning off a percentage of the pixels on the screen.
3. Cornerfly - Makes the corners of the screen look rounded, like the S8 or G6.
4. Dots - a game with a theme optimized for AMOLED screens.
AMOLED phones - prices
The phones above are placed from the most expensive to the cheapest.
Applications for AMOLED off screen, battery saving, round corners - video tutorial