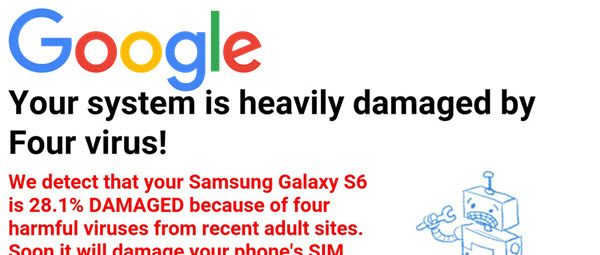 BLOCK windows with ERROR alerts on Android
Hi friends, in today's tutorial we will see how we can block the "virus device" redirection that we most often encounter in the Chrome browser.
What is "infected device" or "virus device" redirect?
This is a way that malicious people use and manipulates it to redirect the user from a legitimate page to a new page in which the user is displayed a terrible message telling him by a false message that the device is infected or infected or malfunctions.
For everything to be believable, the message is displayed in red on the page where the user is being directed, the device that he uses is automatically detected and the logo is also used for credibility Google.
What is the purpose of redirecting "infected device" or "infected device"?
In general, the ultimate goal is to determine the user to install rogue applications that do nothing useful in reality. They only aim to promote other web products or services or other unnecessary applications that, in large numbers, end up consuming the device's resources, slowing it down and consuming its battery.
What we will do in today's tutorial can be applied to the Chrome browser regardless of the operating system we use. It's a simple setting that we can quickly apply to Chrome, we do not need additional software or extensions to install.
Address to be accessed in the browser: chrome: // flags / # enable-framebusting-needs-sameorigin-or-usergesture
Once you apply the setting, you can test its functionality by accessing: https://ndossougbe.github.io/web-sandbox/interventions/3p-redirect/
Video tutorial - LOCKING VIRUSES alert windows on Android