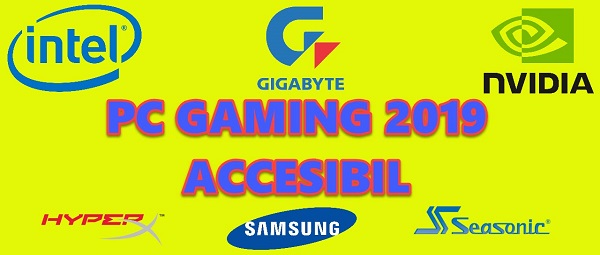 2019 Affordable Gaming Calculator
Today we will set up a gaming system. This PC will work very well with all existing games, even with a large framerate, suitable for fast-panel monitors (120hz, 144hz, etc.).
processor
The choice is a strange thing for many who have not found out that from Coffee Lake i3 has 4 cores, the number of perfect gaming kernels.
Additionally, the frequency of this processor is fixed to 3,6 Ghz, which makes it very agile.
Motherboard
Gigabyte B360M DS3H motherboard.
It is compatible with the Coffee Lake processors, which is strictly necessary, and we also have a M2 NVMe slot for extremely fast SSDs.
Video card
Nvidia GTX 1060 video card made by KFA
Choosing a GTX 1060 is natural, because the board has a decent price for the performance it offers.
Even now, with the emergence of the RTX series, GTX 1060 remains the right choice for a Full HD or even QHD system at high frame rate.
SSD
The Samsung 970 EVO SSD
I said I do not know how many times, the SSD is the component that radically changes our experience in front of the PC.
Together with Intel, Samsung is the top with the best SSD at the moment, and 970 EVO is not only affordable but also highly performing.
RAM
RAM HyperX Fury
This RAM does not have anything special, it simply does its job without compromising compatibility and the price is more than decent.
If you feel like 8 GB (two-liked by 4GB) is a little, you can buy two pleasing 8GBs first.
Source
Seasonic ECO-430 Source
We chose Seasonic because it is a reliable manufacturer. This manufacturer has been making sources for a very long time and is certainly the most respected producer of sources in the market.
housing
Floston Pure Style Case
There is nothing special, a generic casing that holds the components together. Sure, you can choose any source you want.
My suggestion is not to choose unnecessary stuff like RGB LEDs, glass panels, etc. The casing must be functional and silent, the rest are pits.
Other tutorials
The Fastest Intel Optane 900P SSD
Intel Smart Response technology
Make yourself the fastest portable SSD
Accessible gaming computer 2019 - video tutorial