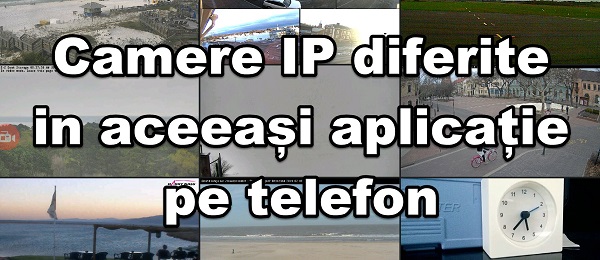 Different IP cameras in an application
Each watch camera manufacturer has its application to watch live images transmitted by that camera or surveillance cameras.
Problems arise when we have surveillance cameras from different manufacturers. Then you need to open an application for each room.
Surveillance cameras must be able to be seen in a single application.
TinyCam Monitor is an application with which we can see all the cameras at the same time on the screen, and the application settings allow us to choose faster or clearer video streams.
The initial setting of TinyCam Monitor is not too complicated, especially if you follow this tutorial. All you have to do is scan the network and the cameras will appear immediately. Those who are more obstinate will introduce them manually, which is not a very complicated process.
Why do you have to make sure you?
Install the app TinyCam Monitor Free
Find the IP / port / user and password of surveillance cameras
Make sure you are on the same network as the cameras
What do I do if I want to see remote cameras?
The first option is to do port forwarding for each camera and put TinyCam Monitor public IP along with the port for each room. (I do not recommend this method for security reasons)
The method I recommend for viewing remote cameras is a little different. Use a VPN server on the internal network, where are the cameras that secure your remote secure login. There will be a connection through which you will be in your home network and you can see the rooms with no port forwarding. A good option would be Make a VPN server from a Raspberry PI.
Related video tutorials
Different IP cameras in one application - video tutorial