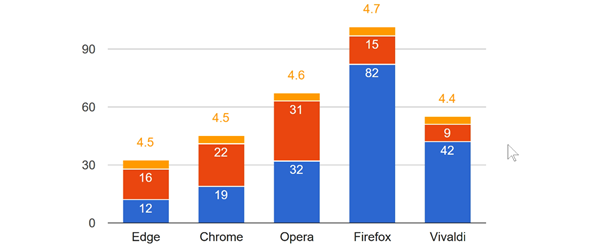 What is the best browser?
The browser is the most important application of our PC, our phone or tablet, and that should it choose the best.
Market share of PC browsers.
Chrome leads the way with over 63% of the market. Google is on the big track… Microsoft has only 13% of the market, 9% of Internet Explorer and 4% of Edge. Firefox and Opera are in free fall and Vivaldi is too new to be included in the rankings.

But what is the best browser?
If they perform one task would be simple, but it is not because a browser has to make a lot today.
To figure out which is the best browser must do tests, and I mean the tests that matter, that javascript html5 and multimedia, as these are bread Internet now.
What you need to have a fast browser javascript?
Javascript is all web pages that interact, and not only Aste everywhere but is hard to process.
Candidates!
1. Microsoft Edge
2. Google Chrome
3. Mozilla Firefox
4. Opera
5. Vivaldi
The latter is a relatively new browser that has some interesting stuff, but about which we speak today. Today we will focus on the testing and results.
The first tests are Basemark and Jetstream!
Basemark is a benchmark web General Test. At Basemark Microsoft Edge it was downgraded because it does not support WebGL 2.0, but that would be a real problem because anyway Edge provides default hardware acceleration for graphics developers. Certainly in the future Microsoft will include support for WebGL Edge 2.0.
After depunctării, Edge came last.
Jetstream is a benchmark focused on javascript and processing. Here Microsoft Edge was ranked first, followed by Chrome and others.

I must mention that Opera, Chrome and Vivaldi use the same rendering engine named Blink.
Firefox rendering engine used GeckoAnd Edge has rendering engine EdgeHTMLA derivative of Trent, running IE.
Note over tests as Chrome, Opera rendering engine and Vivaldi are common, but each has slight variations configuration. Of course moving better than Chrome or Opera Vivaldi, because Google specialists are a bit closer to the problem, with and integration services.
SunSpider results
This is a JavaScript benchmark that shows how fast can execute javascript browsers. Edge course made disaster is incredibly fast.

YouTube video running 4K 60fps
Edge here is incredible any chapter. Consuming the fewest resources, the video runs smoother and is 0 dropped frames. Again, we talk about video resolution 4K to 60 frames per second.
Opposite is Firefox, which consume the most resources and plays videos worst.
Drop frames or skipped frames
Skipped frames are those frames that the browser can not decode and is forced to jump over them. This happens because a video 4K to 60 frames per second, you 60 8 picture of how many megapixels that must be displayed in a second. This work is not a browser, makes graphics and processors, but the browser has to be a good conductor, to better manage the resources at its disposal.
Resource consumption rolling 4K 60fps YouTube video
Skipped frames browsers running 4K 60fps YouTube
What is the best browser of Edge, Chrome, Firefox, Opera and Vivaldi?
After testing and using these browsers we have concluded that Microsoft Edge is the best browser BUT, this browser does not Chrome or Firefox ecosystem that they have. Perhaps sometimes it matters and what you're used to.
It's up to you, I showed you the information…
Benchmark used:
sunspider 1.0.2
Basemark Web3.0
Jetstream 1.1
YouTube video 4K 60fps
Which is the best browser - Chrome vs Edge vs Firefox vs Opera vs Vivaldi - video tutorial