Which is the fastest VPN server - PPTP vs. L2TP / IPSec Vs. OpenVPN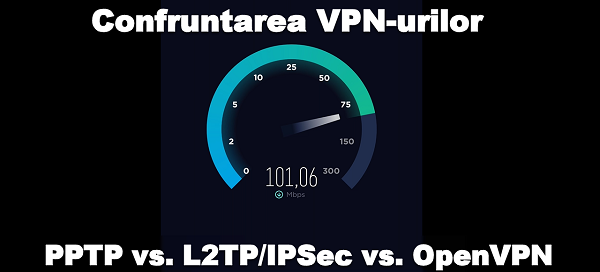 VPN Server Speed ​​Testing
Following your requests, we have set up 3 VPN servers to see who the champion is. Which is the VPN server with the best ratio: costs - speed - simplicity of configuration - client compatibility.
What VPN servers do we have in the test?
PPTP
- runs on the router Mikrotik hAP AC
PPTP Advantages:
PPTP is a very easy to set server, easy to use on client (phone, pc).
PPTP Disadvantages:
Security is a bit precarious and the speed is rather small.
L2TP with IPsec
- also runs on the router Mikrotik hAP AC, but it can also run on Mikrotik mAP Lite, which is an extremely small and accessible router.
Advantages of L2TP with IPSec:
The L2TP / IPSec VPN server is easy to set up (on the Mikrotik router), it is very fast and very secure. Maybe it is the safest solution VPN for household use.
Disadvantages:
I have found no disadvantage to be mentioned.
OpenVPN
- runs on Raspberry PI (with PiVPN). Running on Raspberry PI, OpenVPN becomes almost the most affordable VPN solution for those who do not want a router Like Mikrotik hAP AC or mAP Lite.
Advantages of OpenVPN:
The speed is very good, server configuration is relatively simple, and security is good.
Disadvantages:
There are no major disadvantages, maybe just the need to install an application on the clint that wants to access the server, but this is not necessarily a disadvantage.
VPN Server Speed ​​Testing
The phone used for testing is Openplus 3 and the network is Orange 4G +
Achievements:
Orange 4G + speed (without VPN)
Download - 100 Mbps
Upload - 34 Mbps
PPTP (Mikrotik hAP AC)
Download - 6,07 Mbps
Upload - 2,74 Mbps
L2TP / IPSec (Mikrotik hAP AC)
Download - 27,9 Mbps
Upload - 30,1 Mbps
OpenVPN (Raspberry Pi)
Download - 27,3 Mbps
Upload - 31,1 Mbps
OperaVPN (for comparison - Germany)
Download - 8,13 Mbps
Upload - 9,44 Mbps
What is the fastest VPN server - PPTP vs. L2TP / IPSec Vs. OpenVPN?
As you can see, OpenVPN and L2TP / IPSec are the fastest servers. If I were to choose, I would use L2TP / IPSec, because I already have the Mikrotik router.
However, for someone who takes it from 0, I recommend OpenVPN installed on Raspberry PI, because installing and configuring PiVPN is a children's play.
Note
1. During this test I chose to use the PPTP server on the Mikrotik router because it had the best performance. I still have a router Asus, who also has a PPTP server, but the speed was much lower.
2. I tried to run OpenVPN on my laptop with Ubuntu, as having Gigabit LAN but performance did not rise above Raspberry PI, and that's why I chose to keep the little giant in the game.
Linked Tutorials:
What is the fastest VPN server - PPTP vs. L2TP / IPSec Vs. OpenVPN - video tutorial