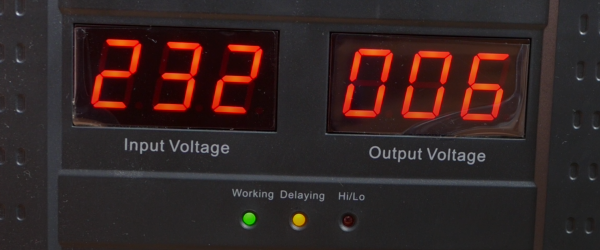 Which are the best voltage stabilizers
What is the voltage stabilizer?
It's simple, a device that stabilizes the mains voltage.
Normally The network voltage should be 230V, But it's never like that.
The day, when the world uses energy intensely, tension can decrease.
At night when the world is asleep, tension may increase.
That's what happened to me, where the day I have 220-230 volts, and the night 260-270 volts.
We complain to your energy provider!
That's what I did, and indeed the boys came.
When they measured, as normal day came, the tension was normal.
In the contract with the energy provider he writes that a +/- 10% deviation is allowed.
That means (according to their mind) that it is OK to have the voltage between 207 and 253 volts.
Of course I also paid for their intervention, and for me nothing has been solved.
I got my stabilizer
After years of throwing a bunch of electronics into the trash, as I was burned by the current, I decided to buy a stabilizer.
I bought a stabilizer with a servo motor, because that's good for refrigerator, air conditioning, microwave, etc, motoring stuff.
Which stabilizer to take with relays or servo motors?
Types of stabilizers on the market:
Relay Stabilizers
They are suitable for any kind of electronics: TV, computer, radio, bulbs, laptop, etc. This type of stabilizer is found in any size and has some advantages.
Advantages Relay Stabilizer:
1. Small dimensions
2. Cheap
3. Fast on network voltage changes
Relay Stabilizers Disadvantages
1. It does not work well with motorized devices
2. Most do not have pure sinusoidal waves
3. They can be loud because of the fan at high power
4. Less efficient than servomotors
Servo motor stabilizers
They are perfect for any task, especially for voltage stabilization for motorized devices
If you want to stabilize the voltage for: refrigerator, air conditioner, water pump, freezer, microwave, then a servo motor stabilizer is perfect.
Advantages of stabilizer with servo motor
1. They have a pure sinusoidal wave
2. It works with any kind of electrical or household appliances
3. They are very efficient, efficiency over 97-98%
4. They are relatively silent, they hear from time to time a little flick of the brush
Motorized servo stabilizing disadvantages
1. They are bigger and heavier
2. They're a little more expensive
3. They are not so fast at high voltages (the problem solved)
How to check the power and what it means 1000VA (volt amp)
Super simple, you will look into the specifications of the power factor and multiply it by these volts.
Example:
Power factor = 0.6
Stabilizer power = 1000VA
Then we make 1000 x 0.6 = 600W
That is, you can put 600W on the 1000VA stabilizer