The best application for creating an automatic slideshow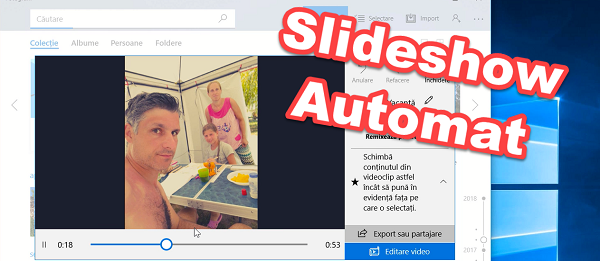 We take lots of pictures, but when do we see them?

Today people make pictures and videos more and more. The only problem is with watching them that is not so easy. There are a lot of pictures, some duplicates, others crackled. When we try to see them, it's not that easy.
An alternative way to watch pictures and videos.

The method I'm suggesting is to create a slideshow of video with background music that will make it more enjoyable to watch a holiday picture.
With the Windows 10 photo application, it's easier than ever to make a slideshow (video editing) almost professionally, with little experience.
The advantages of a video slideshow.

1. You do not have to distribute a bunch of pictures with your friends or family. A single photo-mount with background music will be the only file he has to view.
2. Once combined with video and music, everything will catch a more engaging air that will make you feel excited from the first few seconds.
3. An excellent method of putting in a multimedia fit all the pictures taken on a vacation.
4. Very good for the end of the school year or the school thresholds (primary, secondary, etc.)
The Windows 10 Photos app is a 10 note.

As opposed to Windows Movie Maker, the Photos application is more automated. Practically you do not have to know where the pictures and video files are, the rest of the application is.
The result is one over expectations, for good!
How the Photos application makes a slideshow video

Once you've put all the pictures and videos that will be part of the slide, in a folder, we get to work. In fact, not us, it's the application, it's working. All you have to do is where the pictures are and select them, the rest is automatic.
It will make a multimedia fitting, a synchronized video slideshow on the music, moving pictures, color effects and more.
If you want, you can get out of the car mode.

For those who will absolutely control the application, you can switch to semi manual mode, which gives you more options. This option, however, should be used only if you know what you are doing, otherwise the result will not be better than the auto mode.
tips:

1. To get the most out of the app, just extract the important video sequences as in the tutorial this
2. At first, use auto mode until you get familiar with the application.
3. Try making / using pictures taken in landscape mode (horizontally)
Related Tutorials:
The best application for creating an automatic video slideshow - video tutorial