Hi friends, today we will discuss the best electronic cigarette the moment. It is Kayfun V4 a tank atomizer Servis aka RTA designs in Russia and executed at the highest level in Germany. Of course do not forget the small Chinese two-stroke three movements have cloned engineering, to us a new sell for less.
Some time ago We presented several models of electronic cigarettes. There have explained how these cigarettes and what are the main technologies. From then until now it has changed a lot and models have advanced.
Kayfun V4 is a modern and highly complex model. This course gives and incredible performance level. With Kayfun V4 is a real Titanic when you start vapezi. Of course Kayfun V4 to sustain his performance must give him great group emerge. For the supply of Kayfun V4 use an electronic (battery) and Wataj Eleaf iStick 50W with adjustable voltage.
Latest models of atomizers that I used gave me not even 20% level of performance that it offers Kayfun V4.
To be fair, this atomizer is not "original", it is a very well made clone. The original Kayfun V4 is extremely expensive (150 euros), while the clone is 100-150 lei in Romania.
My opinion about Kayfun V4
Every time I see an exceptional engineering achievement I take my hat off, whatever comes deomeniu. Kayfun V4 is a product designed and perfect. To give you an idea mivel precision engineering, give the image below.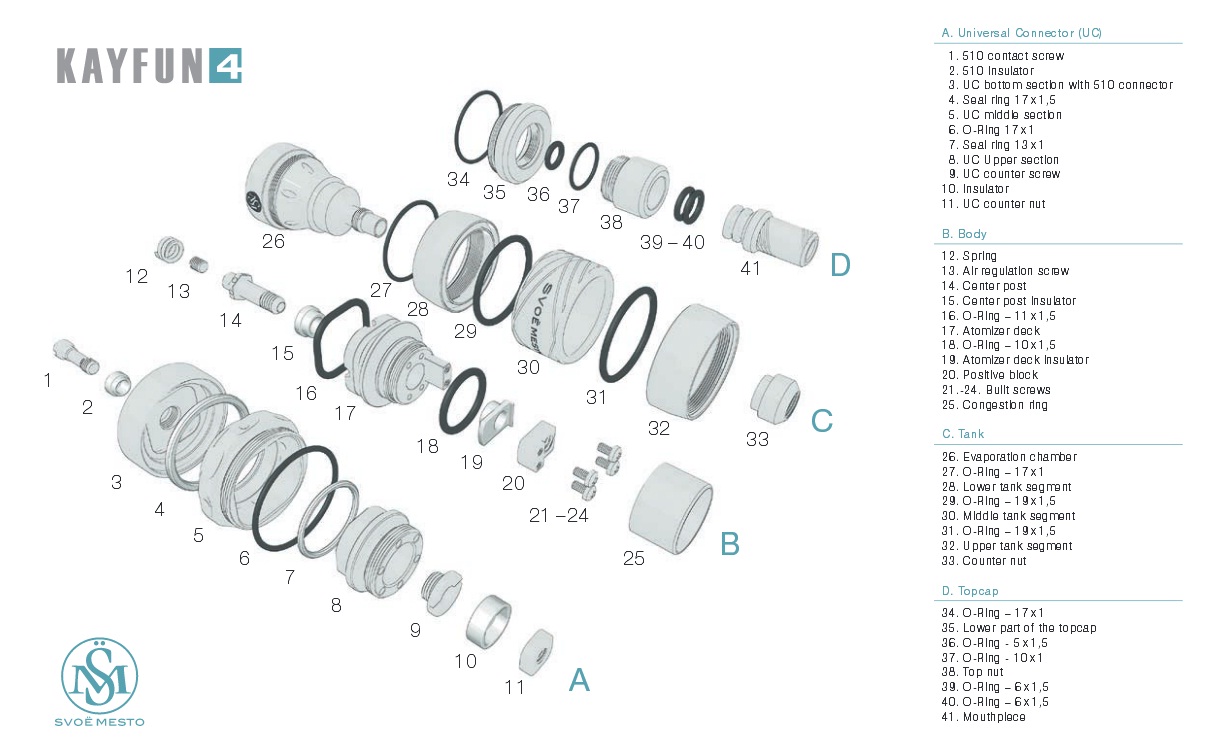 Production of steam
Mannn, and the Titanic. In addition, the iStick mode also offers an "accelerator pedal" in the form of Adjustable Voting and Wattage. You are not satisfied with the volume of vapors produced, you simply increase the wattage and thank you for how much your body supports. I and others around me cough up every smoke (liquid 6mg nicotine) if we exceed 20W, and don't forget, it can go up to 50W.
About Kayfun V4 I could speak and to show tens of minutes, and that if I hurry. Today I just did a quick introduction to see how you are interested in the subject. If you want to go in depth, please let me know in the comment field.
WARNING!
If you smoke, do not start smoking! It is a vice that will not bring anything extra. Do not get smarter, you are not the coolest. It is a bad habit that will impoverish and ill will.
This tutorial is more for the victims of this vice (smokers) who want to find a way out, or even to repair least basil.
Electronic cigarettes do not get rid of cigarettes, they only offer you a healthier and more accessible alternative. Nicotine addiction will persist.
Liquids have different nicotine concentrations are liquids that have no nicotine and may help smokers get rid of nicotine, while keeping ritual (coffee, after meals, etc.)