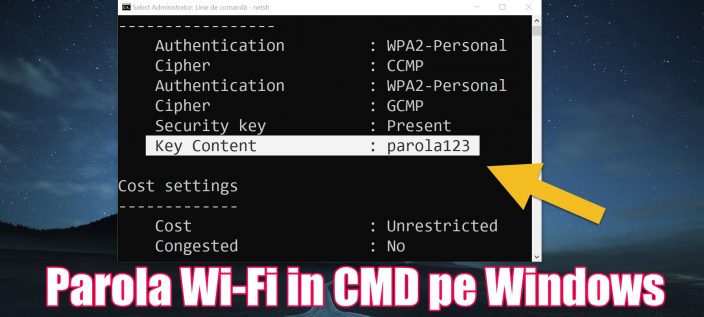 What is it about in the tutorial command displaying wi-fi passwords in CMD?
In the video tutorial command display wi-fi passwords in CMD we will see how wireless passwords can be displayed, only by a command given in CMD on Windows.
Why would we want to see the Wi-Fi passwords displayed in CMD?
Passwords are good as long as we remember them. It is the same with the wi-fi password, which I forgot a few minutes after I put it.
When you forget the wi-fi password, you just have to go into the router and see what the password is. The problem is that we don't even remember the router's administration password.
Someone comes to visit and says: "Give me your wi-fi password too"
Exactly after that question you only remember that it's been too long since you set up your router, and the wi-fi password is lost in your thoughts.
Then you say, "Wait, I saved it on my PC." But how do you see it?
How can we view the stored Wi-Fi passwords on the PC?
There are many methods, some involve using some applications.
The easiest thing is to use some commands in CMD and the passwords will be displayed on the screen in a few seconds.
Command to display wi-fi passwords in CMD - steps
Open DCM with administrator rights
The first order is netsh
The second command is wlan show profile for displaying the stored networks
The final order is wlan show profile nume_retea key=clear for displaying the Wi-Fi key. Instead of nume_reţea Fill in the name of the network for which you want to find the password.
Video tutorials wifi passwords and more
Video tutorial - Command to display wi-fi words in CMD