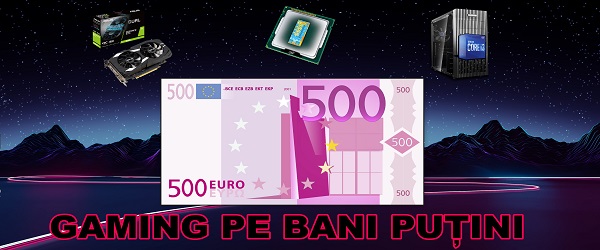 What is it about in the Tutorial Gaming Configuration at 500 Euros?
In this video tutorial we will make a gaming configuration at the price of 500 euros, more precisely at 550 euros we will have a very good PC system for the price we pay.
The system will be enough for gaming at 1080, school, office, streaming and more.
Why does it need a gaming system?
First of all, a gaming system needs a processor, video card and decent RAM. The better the better, but here too we reach the performance received for the money we pay.
In gaming, it is best to calculate the price per FPS, ie we divide the price of the video card by the number of frames per second.
Price per FPS in games
Without question, more expensive boards are better, but more than performance matters the price we pay for that performance.
A hypothetical example:
Case 1: a 500 lei video card runs the game with an average of 70 frames per second. Divide 500 by 70 and find out the price per FPS, ie 500: 70 = 7,14 lei per FPS
Case 2: a better video card costs 3000 lei and runs the game with an average of 200 frames per second. Everyone would be tempted to say that this board deserves more. But, if we make a calculation, we will see that 3000: 200 = 15 lei per fps
The bottom line is that: a more expensive board that gets more FPS, has no better value.
What components did I use for the presented system?
Intel i3 10100F processor
Even if it looks like a weak processor, it has nothing to do with the i3 that everyone has. This i3 10100F has 4 physical cores and 8 threads (the old i3 had only 2 cores) frequency 3.6Ghz up to 4.3Ghz in Turbo Boost, Virtualization support for Intel Optane memory
MSI motherboard on B460 chipset
I chose an Msi with a B460 chipset for the fact that it is a balanced chipset, compared to the H410, which has fewer PCI-e 3.0 lines and fewer USBs.
Nvidia GTX 1650 OC video card (GDDR6)
A very good video card for gaming in 1080, which is quite quiet and not very expensive.
Adata SX8200 Pro SSD
As I have said on other occasions, I recommend the Adata SX8200 Pro for its level of performance and great price.
Memories Corsair Vengeance LPX
I chose these memories because they have the maximum frequency that the controller in the processor supports and have a lower latency.
Source Seasonic Core GC500W 80PLUS Gold
This source is extremely efficient and quiet and paired with the above components, the fan will definitely stay silent most of the time.
DeepCool Matrexx 30 case
A case good enough for the price paid
Gaming configuration at 500 euros
Product links *
processor - https://l.profitshare.ro/l/8230807
motherboard -https://l.profitshare.ro/l/8230812
RAM - https://l.profitshare.ro/l/8230817
SSD storage - https://l.profitshare.ro/l/8230818
video card - https://l.profitshare.ro/l/8230821
source - https://l.profitshare.ro/l/8230824
housing - https://l.profitshare.ro/l/8230829
* affiliate links
Hardware tutorial:
Video tutorial - Gaming configuration at 500 euros