PC configuration with new Intel i3 with 4 NUCLEE Coffe Lake
Some time ago, the Intel Coffe Lake processors, which represent the 8 generation of Intel Core processors, also appeared in our stores.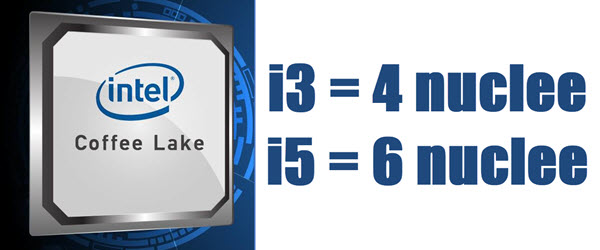 Major changes with Coffe Lake.

Important changes are two, the first at the socket, and the second at the number of kernels per processor. Besides this there is also the increase of the cache, the lack of hyper threading on i3 and some more technical ones.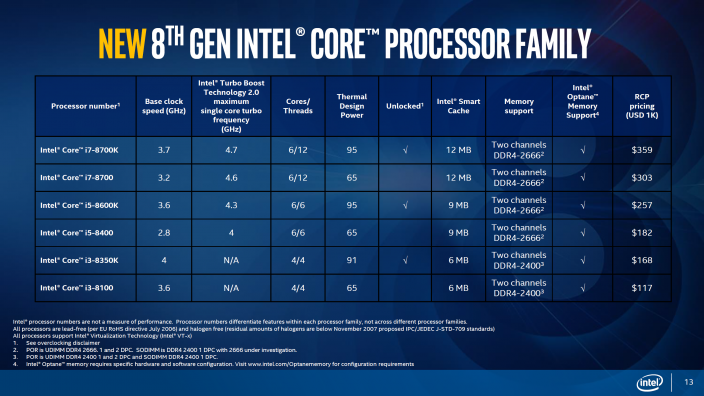 As you can see in the above image, there are quite important changes in the CPU area.
Process Changes at a Glance:
Intel i3 - 4 physical cores, without Turbo Boost, without Hyper-Threading (4 logical cores)
Intel i5 - 6 physical cores, with Turbo Boost, without Hyper-Threading (6 logical cores)
Intel i7 - 6 physical cores, with Turbo Boost, with Hyper-Threading (12 logical cores)
Important change to socket
A new socket, LGA 1151 V2, is introduced with Coffe Lake.
Intel decided to keep the physical dimensions of the 1151 socker, but they made changes to the pins. This means that the 1151 v2 processors can not be mounted on the 1151 socket.
This is not just a bios update. The 1151 V2 socket, although it resembles 1151, is another socket. What's up at Intel's head, I do not know! They could put another name on the socket. I give them an idea, what about 1152?
Question - Does the 1151 cooler work on the new 1151 V2 socket?
Answer - Yes!
The Coffe Lake system, or rather the systems.
I made two systems out of one. We have a cheap office system and… whatever, and a gaming system, which of course is more expensive, because it has a video card and a slightly more expensive processor.
Both systems have ultra-fast storage, high-quality source and motherboard with current facilities.
The Intel i3 8350K processor, on the gaming system, is a small beast, which can be overlocked up to 4,6 - 4,7Ghz. On gaming this processor is almost unbeatable, considering that most games use only 4 cores, and here we have 4 super powerful cores.
PC configuration with the new Intel i3 with 4 NUCLEE Coffe Lake - video tutorial