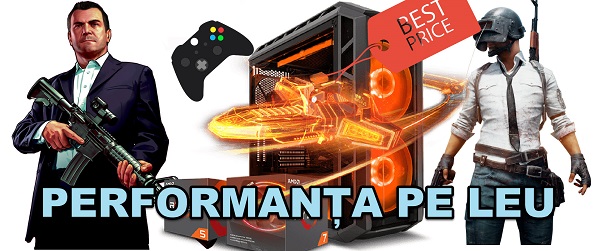 What is the "High-performance PC Gaming Configuration on AMD" tutorial about?
In this video tutorial I will configure a gaming system based on AMD, with which you can play the latest titles at high settings. Starting from the Ryzen 5 3600 processor, I will make a powerful PC Gaming configuration on AMD.
Ryzen 5 3600 is a brand new processor that is amazing at its price-performance ratio.
I chose for this build, a CPU from AMD, because many of you have requested this. In the past we have made PC configuration guides more about the platform Intel, but now I think AMD with the new Ryzen processors did an excellent job and it really deserves attention.
Why didn't I choose Ryzen 5 3600X? Powerful PC Gaming configuration on AMD
Ryzen 5 3600x is the same processor as the 5 3600, except that it has a higher frequency and a slightly larger cooler in the box.
Unfortunately it is not worth it, because it offers with 5% more performance at a price with 20% higher.
With the difference of money you buy a cooler better than the one that comes with 5 3600X, which helps you raise the frequency even faster, and at the same money you had to pay on an X, you get even better performance.
Motherboard for Ryzen 5 3600?
We chose a rather simple Gigabyte entry board with B450 chipset, which gives us everything we need for flawless processor operation.
We do not have luxury facilities, but we do not need either, our main concern being the budget.
The video card is an RX580 with 8GB and a good cooler.
It is important to know that at present, even if we also have RX590, RX580 remains the best buy in terms of AMD graphics card. However, RX590 is almost the same video card, the difference being only a higher frequency on RX590 without RX580.
Adata XPG memory.
I chose Adata because it offers good performance, RGB and decent price.
SSD?
I recommend the Adata XPG SX8200 PRO which offers top performance at a super decent price. No matter how you take it, with this SSD you can't go wrong.
I personally use this SSD and it behaves great, even when it is loaded, it barely feels. He takes all the ones without giving a gasp.
Source and housing?
As usual, the source is Seasonic with bronze certification, also for the budget, and the case is a generic one with mounting the source down and "airflow" enough; But I'm sure some of you will choose the case according to your preferences.
List of components used in the AMD Performance PC Gaming Configuration tutorial:
Update Bios for Ryzen 3000 support
At the moment, all these cards are based on F40, which is compatible with Ryzen 3000 series processors. However, it may be an older board, out of stock or used if you have an older bios that does not support Ryzen 3000 processors.
If you don't have the latest version, you have to do a Bios flashback, and the least difficult part is that you have to do this without a processor, memory, video card, monitor image, etc.

Here's a flashback bios tutorial for Asus. And it's similar to Gigabyte (see below).
How to make bios flashback to Asus (from 8 minute: 12
Here's the process for Gigabyte:
https://www.gigabyte.com/in/MicroSite/372/images/safe.htmlDisapprove
Related tutorials:
Video tutorial - High-performance PC Gaming configuration on AMD