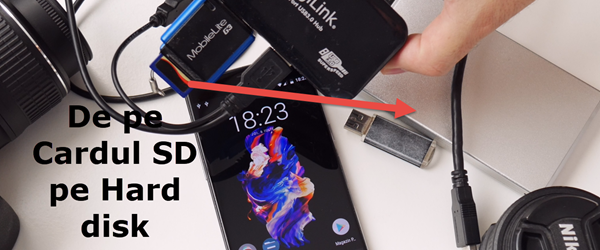 SD card copying directly to an external HDD without PC - IN HOLIDAY
When we leave on vacation, we do not want to take the laptop with us. Why carry on extra baggage and risk letting it go without it (as in some countries it is stealing).
Still, we need a file-copying method that plugs onto the phone or SD card in the camera.
How do I copy files from my phone to an external HDD?
First we need an OTG USB cable. If you do not know what an OTG USB Adapter is, I invite you to see:
How to make a USB OTG for connecting peripherals to phone
With the OTG USB cable, we plug in the USB stick or the external hard drive on which we store the files.
Using a file manager we will copy the files we want to move.
CAREFUL:
1. Almost all phones support USB OTG, but some may have lower current on the USB port.
2. 3.5 ′ hard disks will not be able to be powered by USB OTG (needing their own power supply).
How do I copy from a SD card directly to an external HDD?
We have two methods:
1. Using your phone as a relay, that is, we copy from card to phone and phone on HDD
2. Using a powered USB Hub, where the "Dad" USB jack plugs into the USB OTG adapter and into the phone, and the SD Card and external hard drive will connect to the "Mother" jacks.
Using the file manager in your phone, you transfer the files from the SD card to the external HDD.
IMPORTANT:
The USB Hub in the tutorial is powered. A non-powered USB hub will not work with multiple peripherals connected to the phone, as the phone does not have enough output for several peripherals.
Usb hub suitable for holiday:
Hub Logilink UA0124, 7 ports, USB 2.0, Black
Copy SD card, directly to an external HDD, without PC - HOLIDAY - video tutorial