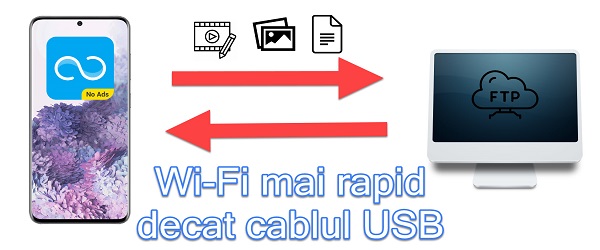 What is the Copy from Phone to Wireless PC tutorial about?
In the video tutorial Copy from phone to wireless PC, you will see how you can transfer photos, videos and files from your phone to your computer via Wi-Fi and at a higher speed than with a USB cable.
Why transfer photos, videos and files from your phone to your computer via Wi-Fi?
There are many reasons, especially since nowadays no one conceives of connecting a mobile device to a cable. That's it, the phones take flight, even charging is done wirelessly, and even our headphones don't want their headphones anymore.
I don't think the phones will have any ports any time soon. The USB port, in its various forms, no longer has a long life, and overnight, we will wake up, usually from Apple, with the phone without holes and without cables in the package.
Even the SIM will be a virtual one eSIM as it is called.
Welcome to the wireless file transfer era. In the video tutorial you can see how simple it is.
Why not transfer via USB cable? - Copy from phone to wireless PC
1. Wi-Fi speed is faster than USB
2. The USB cable is connected to the charger and it is inconvenient to always remove it
3. When transferring via Wi-Fi, you do not have to sit with your phone locked next to your PC
What application will we use on our phone? (no application required on PC)
The only application we will use is called ShareMe and is a Xiaomi application (no ads).
Sure, some data may be collected, but it's the same everywhere today, when you use "smart" devices.
We install the ShareMe application on the phone, and it ensures that the files are sent or received at the maximum possible speed, either via Wi-Fi, if the phones and the PC are on the same network, or via Wi-Fi Direct if they are nearby.
No application is required on the PC, because the phone makes an FTP server, which you access from the PC, through the browser, through an FTP client or even through the Windows file manager, ie Explorer.
Similar tutorials: transfer, speed, wireless
Video tutorial - Copy from phone to PC wirelessly