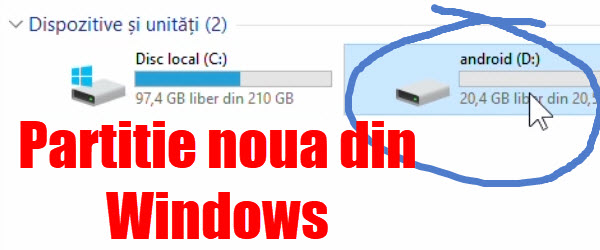 Create a new partition on a Windows disk
In this tutorial I will show you how to create a new partition on the Windows 7, 8, or 10 disk, even if the SSD or HHD is being used.
First step, partition resize C:

To make room for the new partition, we need to lower C: partition, that is, Windows partition.
The new space is unallocated.

As soon as we resize C: partition, we'll see an unpartitioned space. In this space we need to make a new volume, that is a new partition.
Why create a new partition on the Windows disk?

1. We have the big disk and we want to organize files and folders differently
2. We want to install a Windows operating system
3. My case, I want to install Android in dual boot with Windows
What did I do in the tutorial?

1. I've resized partition C: to get a free space, where I will make a new partition for a dual boot with Android.
2. I thought I'd show you how to get back to the whole partition if you're getting saturated with the dual boot.
Using 2, you can increase the C: partition, if you have other partitions on the Windows disk, or if you have unallocated disk space.
Important:
1. Be careful what you do, that in such operations the data may be lost in a second. Back up to be safe.
2. I want you to tell me everything you are interested in about a dual boot Android - Windows, so I can include everything in the tutorial with dual boot.
3. How do you want to do after the boot? On the same disc? On different discs?
Create a new partition on a Windows disk - video tutorial