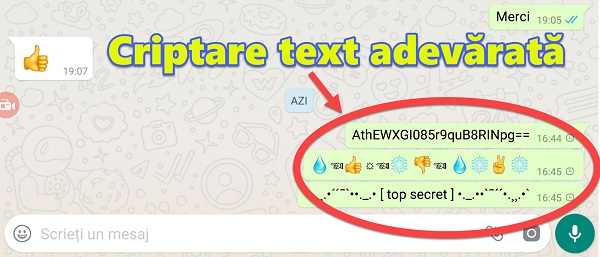 Encrypt Whatsapp and Messenger conversations
Status of conversation encryption in applications.
Nowadays all chat services such as Whatsapp, Messenger, Hangouts, provide us with encryption methods that make our conversations free from third-party eyes.
What does this encryption mean?
Encryption and decryption are techniques by which a text or data is hidden under incomprehensible characters using encryption keys that use different methods of "messing up" the text or data.
Silent Encryption Example:
Let's say we want to encrypt and send the text "HELLO". Using some keys, we replace the word "HELLO" with "Hi7 = FwU-23" which is a meaningless string.
This meaningless string can be decrypted using a key, and the recipient of the message will see "HELLO" instead of
"Hi7 = FwU-23".
What's the problem with encrypting applications such as Whatsapp, Messenger, etc.
The basic encryption of Whatsapp, Messenger, Hangouts will only guard against the eyes of a hacker. This time, people at Facebook can see your conversations, even if they say they are not interested in it. Technically they have all the keys that can decrypt any conversation, and conversations are stored on their servers.
In addition, your conversations can be seen by everyone who has access to your phone, directly or remotely.
How do I add an extra layer of encryption?
The best thing is that you do with your hand, it says a popular word. So, we will make our own encryption in applications.
Okay, now you do not have to encrypt all your messages, but at least the most important ones you put in the shelter.
Apps for encrypting conversations on Whatsapp, Messenger, Hangouts.
CODEC - is an application that helps us make a kind of encryption easier, as a kind of text conversion. It is an easy to use application and does not require a password.
Encrypt Messages and Text - this is a slightly more serious application that will allow you to password the text.
Bonus - the "codec" application also has a way to decorate messages.
Related video tutorials:
.
.
.
.
.
.
.
Encrypt Whatsapp and Messenger conversations - video tutorial