How to copy your mobile photos to a Wi-Fi wireless PC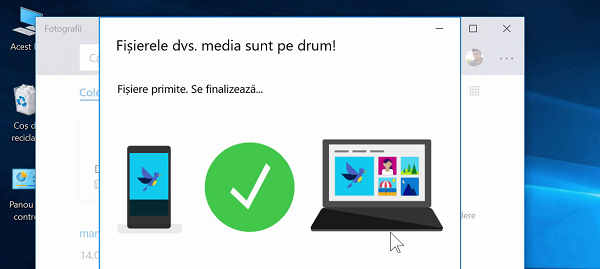 Photo Companion is an Android and iOS app with which we can transfer photos from your phone to a PC without cables, just by wifi.
How does Photo Companion work?
1. On your phone, be it Android or iOS, we need to install Photo Companion.
2. On the PC (Windows 10) we have to launch the Photos app (Photos in English)
3. In the Photos application menu, enter the settings and activate the "Preview" function
4. In the Photos application interface, press the import button and select the "From mobile via Wi-Fi" option.
5. A QR Code will appear on your PC screen and we'll need to scan it with Photo Companion.
6. From here everything is simple, select the photos and videos you want to send and press the "Done" button
Where do we find photos transferred through Photo Companion?
If you do not like Photos to view photos, and want to use your favorite app, find pictures imported in "C:\Users\"utilizatorul"\Pictures\Imported from Photos Companion"
What alternatives do we have for Photo Companion?
Alternatives are in the following order:
1. Data cable (but it is a bit inconvenient)
2. app Super Beam about which I did a tutorial
3. There is also the SyncME tutorial that is an automatic backup of your phone pictures on your PC
benefits Photo Companion is that it has good integration with Windows, and the mobile application for iOS and Android is free.
It is easy to use and the initial setting is almost 0, so maximum effort with minimal effort.
How to copy your mobile photos to a PC without Wi-Fi pro and vice versa
drawbacks Photo Companion is that it only works on Windows 10, it does not support the transfer of folders or other files other than photo and video. It does not offer an automatic backup feature or a kind of background sync, or when the phone is loaded. for this I recommend it SyncMe for Android.
For better experience and two-way transfer
The Super Beam app, which I introduced to you for a while now, is better but it is money for the transfer between Mobile and PC and between Mobile and Mobile is still free.
SuperBeam for transfer between phone and computer
SuperBeam to transfer between phone and phone
File Transfer, Backup, and Synchronization Tutorials:
How to copy photos from mobile to PC wirelessly via Wi-Fi - video tutorial