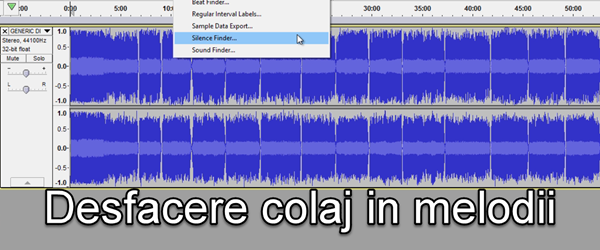 How to break up an audio collage of songs
Hello friends, today's tutorial will see two ways we can divide an audio collage of 1 hours or more, more songs in format MP3 or any audio format you need. Or shortcut, such as the American say, we do Track Split.
This we accomplish using Audacity software which we've shown in our tutorials on various topics.
What is an audio collage?
An audio file with multiple tracks. Often we find on YouTube or Trilulilu, whole albums stuck in one video. Well, we can download only the audio portion of that video and we get a collage that then we can separate in several songs.
Why break up a collage of songs?
It may not be interested in all the songs in that collage and just want one song.
If we use a whole collage MP3 player and put in it, we can scroll favorite song. Even if our 13 collage contains songs, we can go directly to one of the 13 songs for all is in one file and if we next to move to the next song, we get out of collage. MP3 player will treat collage as one long song.
I already have a few songs but I want to stick them in a collage, how do?
If you want to reverse what I have presented in today's tutorial, you can watch a tutorial How stick two or more audio files MP3, WAV, WMA, OGG, AMR, etc. with Audacity
Download file lame_enc.dll
...
CONNECTION:
How to extract audio from video
How to cut a piece of the video
Remove noise from video or audio Audacity
...
How to split an audio collage into several songs - video tutorial