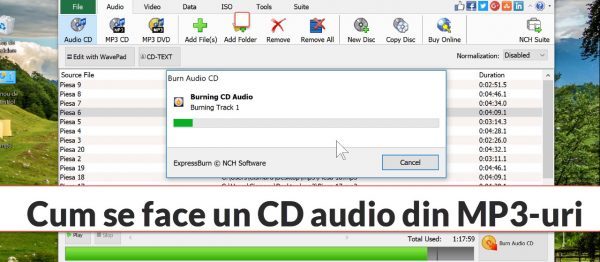 How does CD Audio Track from MP3 work?
In cars and older sound systems we find CD players that can not play compressed music (mp3, mp4, flac etc.). That's why we need to burn some audio tracks from MP3 files and our favorite tracks from time to time.
What is the difference between the audio track CD and MP3?
Audio CD (Track) - songs are printed uncompressed to a higher quality.
disadvantages - it does not fit too many tracks on a CD, the quality being the same if you shoot from MP3.
Advantages - High resolution sound (if shot in the studio)
The CD in MP3 format - Here the songs are stored in a container, compressed.
Disadvantages - Some MP3 files have very poor audio quality
Advantages - More MP3 than tracks are on a CD.
What would I choose between a CD player and a MP3 player?
My choice is obvious. A MP3 player is net superior to a CD player, especially if we listen to MP3s at bit rates and high sampling rates, then the audio quality is comparable to that of the Audio Track CD.
The idea is that there are a lot of cars on the streets with very good sound systems that do not support MP3s. What to do ?
How does CD Audio Track from MP3 work?
We need:
Blank CDs
Optical drive Internal or External
Audio CD burning software and not only
All Question: Is Audio Track CDs Better Than CD MP3?
The answer is up to you. If you bought the original CD from the store, yes, it sounds better than MP3s.
Instead, if they made the Audio Track CD as in the tutorial, then there is no difference in quality between CD Audio and MP3, they will be heard the same.
To go further with the comparison, between an audio CD pulled in the studio and some MP3s or Quality Flakes, I think the human ear is not able to make the difference. Unfortunately, most MP3 files have a lower bit rate and are heard worse than "original" audio CDs.
How to make CD Audio Track from MP3 for car or audio systems - video tutorial