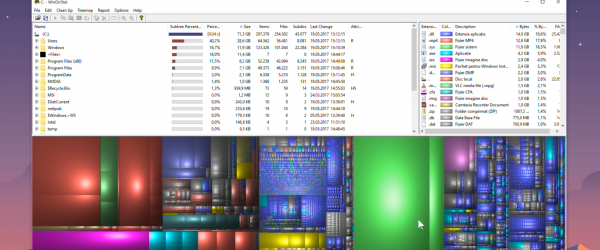 How we do cleanup and free space in Windows
From year to year Windows is growing more and more. I remember Windows Xp, which was good on a 32GB hard drive. Windows 10 and 250GB are now out of reach.
In reality, Windows does not take up much space
Most space is occupied by hibernation, virtual memory, third-party applications, and the files they generate.
Windows would also fit on a 32GB hard drive (no updates)
Space users:
1. The hibernation function, which many do not use, consumes about how much RAM is (see the tutorial how to disable it)
2. Virtual memory, which is useless if we have enough ram, consumes about 1 / 4 in RAM (see tutorial how to disable)
3. Windows updates and above all "Windows.old, which is deleted like this.
4. Updates that are stored on Windows 10 for share on the network.
5. Video files that are getting bigger, usually in editing applications
6. Games installed in partition C :, games that can be quite large
What is and what does WinDirStat do?
WinDirStat is a very useful application that shows us graphically how much space consumes different files.
You will be surprised by the ease of making free space on the Windows partition, using this application.

Space Tutorial for Android
Space saving application on Android - MemoryMap

How does WinDirStat help us free up Windows space?
The advantage of WinDirStat is that it helps us to have an overview of the entire partition in a graphical way, easy to understand by the human brain. Because we humans are not computers, we understand much better from an image. It is not for nothing that it is said, "A picture is worth a thousand words." Now you probably understand why children prefer books and magazines with "pictures", and some adults read "almanacs" with great pleasure.
This tutorial is a remake of an older tutorial with some upgrades.
To enable or disable Hibernation on Windows, launch CMD with administrator rights, and run one of the game's most recent commands. I used the deactivation command in the tutorial. In case you want to reactivate Hibernation on Windows 7, 8 or 10 you have the activation command below.
Windows XP 7, 8, or 10 Hibernation Disable Command:
powercfg.exe /hibernate off
Hibernation Command Windows 7, 8, or 10:
powercfg.exe /hibernate on
Download the WinDirStat application
(Official site)
Video tutorial - How to clean and free up space in Windows