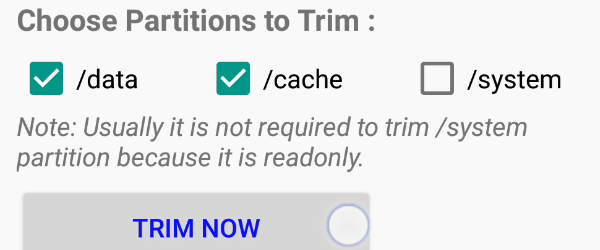 How do Android phone faster with TRIM
Why move after a period of heavy phone usage?
Surely you've noticed that after a few days or weeks after buying a new phone, it began to move increasingly harder.
Be RAM to blame?
Usually many blame RAM, but often is to blame for slowing the entire phone's internal memory.
Take for example the latest phones brought from China, with a lot of RAM. They move very well when they are new, but after a few days or weeks, it's like….
TRIM command is essential for a healthy storage!
Almost all backwardness phone that can not be explained by overheating or insufficient RAM come from sloppy internal memory.
Flash memory, which is present in our phones is quite difficult task. You have to keep your operating system, applications, pictures, video and other files that users generate.
Trim command without creating chaos in your phone!
The internal memory of the phone are made daily all kinds of write operations. Without Trim command from the system controller does not know what can and can not be rewritten, and must do more operations further, which of course slows and spoil the user experience.
Example TRIM in real life!
Imagine that you are a truck driver bringing goods to a warehouse.
1 scenario without TRIM:
Reach warehouse and there must seek empty space for merchandise, but find all warehouse full of empty boxes that can be thrown, but it will slow down a lot.
Scenario 2 with TRIM:
Reach warehouse and there you will find a complete list of all the empty boxes on which you can place the goods smoothly boxes should be discarded anyway. So much is this the TRIM.
But TRIM does not have to be included in Android 4.3?
I had, but that does not mean that every time things are done correctly. Producers are still prioritize other things in Android that look good at marketing, user experience disadvantage in the long term.
Usually no-name phones have problems with TRIM software does not work or works poorly.
Trimmer application is very easy to use; With it we can do Trim manually or automatically.
We need ROOT!
If you do not ROOT the phone and want to do, I invite you to watch our tutorials on this subject.
Tutorials Root, Recovery, Bootloader:
How do ROOT the phone without a PC or applications
Delete ROOT your Android phone or UNROOT
Install TWRP Recovery on any Android
Unlock bootloader Android phone
It has to:
Optimization - speed up your Android phone
Superb speed of copying files via wireless, PC - Android
How can increase the battery life of the phone
Video tutorial - How to make your Android phone faster with TRIM