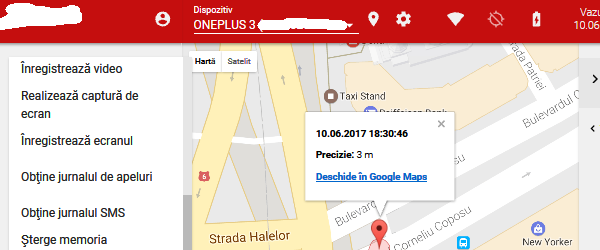 How to find a stolen and reset phone - anti-theft applications
Why do we need anti-theft software?
Now we should not just think about theft. It is quite possible that we often forget or lose the phone, running through the park, on a bench, in the grass after a picnic, etc.
Anti-theft applications are good for locating the phone for various reasons, but I think theft is the main cause that causes us to install such applications.
Nowadays, no one notices that the phones can be stolen, because they are of great value and thieves do not have to make a great effort to take them. How is fashion now with the back phone, as if the hot ...
Today I will present two anti-theft solutions. The first solution is from Google and can be used by anyone with an active Google Account, and is called Find My Device; And the second solution is a bit more complex and is called Cerberus, which is, from my point of view, the best anti-theft solution for phones on the market, as it can withstand a total reset of the phone.
What do we do after our phone has been stolen?
It would be fair to think about what we do before our phone is stolen, but unfortunately the human mind does not work like this. If you think in advance, you are called PARANOIC, and if you think after you are called CĂSCAT.
It is obvious that the best anti-theft solution should be implemented before the phone is stolen, but also after we can apply Plan B, trying to locate the phone with the Google service called Find My Device.
"Find My Device" service from Google
It is a service that can locate your phone very easily and you do not even have to install anything special. Everything is integrated into the Android operating system.
This service is similar to the iPhone or iPad.
CAREFUL
If you want to use all the remote functions, if your phone is stolen, you must have Device Manager rights for the Android Device Manager app.
This way you can lock / reset the phone remotely.
Cerberus application and service (resist resetting)
The Cerberus solution was presented to you A few years ago, But since then the app and the online client have evolved a lot.
Now, this app is a real spy. Apart from resisting the reset, if we inject the application into the system with Link2SD, Cerberus can get all sorts of information on the phone when he is in possession of the thief.
Cerberus Advantages:
Two versions of the application: Cerberus and System Framework, which is a disguised application.
Getting Location History
Get call log
Get SMS list
Get device data
Taking pictures
Audio recording
Video recording
Turn on / off wifi
Turn on / off Bluetooth
Send data
Delete phone memory
Delete SD Card
CAREFUL
To be able to use all the features, you need to enable "Device Administrators" for Cerberus or System Framework
Similar tutorials:
Location by Phone Number without net via SMS
Espionage or call log and sms backup for android phones
The phone, like the camera, with Perch
Video tutorial - How to find a stolen and reset phone - anti-theft apps