How to Stop Behavioral Advertising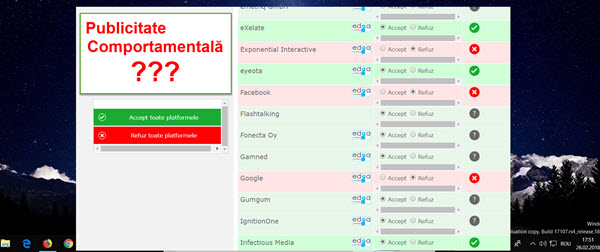 From the moralistic wolf
Advertising that reads our thoughts, or rather, the history of the browser.
Classical advertising (paper, radio, TV, display)
The advertising industry has gone far. On TV and radio you manipulate, with crafty words, friendly, whispered, authoritarian or arrogant tone, suggestions, comparisons, ethos, patos, logos, etc. These have something for everyone. There are even TV shows that manage to pack in a nice pack this industry, which actually has only one role to sell.
Product-related information, which could help the consumer to choose correctly, has long disappeared, being replaced by manipulation.
Online advertising
But online advertising is another animal. Here advertising companies have access to our data and nothing stops us from using them. Thus advertising is no longer thrown into the air, in a slap, but is targeted or "targeted", as they like to say, directly in our synapses, exactly at the target, in the bottom of our primitive brain, which I want and that's why ". Because, isn't it, we live only to buy something more, and we sit like good children and wait for the courier…
Will online advertising stop here?
I don't think so, especially since he has access to our data, which those with fried neurons say: "I have nothing to hide from him".
Everyone wonders what others do with my data, believing he does not matter. If you think that your data is not important, find out that for big IT companies and beyond, our data is like silver, the end of it turns into AUR and put it to work is made like DIAMOND. Time for us, our data is a RAHAT.
Starting from our data, reports will be made that will show what kind of new products we would like to buy.
Then we, alone, unconscious, will tell the companies what to build us, or rather, we will become the provider of ideas for building products that still do not exist and which they would not have thought forever.
So, take care of your data.
Come on, I took the plow…
How Do You Stop Behavioral Advertising?
1. Come on http://www.youronlinechoices.com/ro/optiunile-mele
2. Press the RED "Reject all platforms" button
3. Be patient until I stop them all
CAREFUL:
1. For incognito pages, you have to do this every incognito page open.
2. By the method in this tutorial do not get rid of advertising, just get rid of targeted ads
Related tutorials:
How do I delete my local and online web history - the history on Google servers
STOP invasion of privacy on the Microsoft WINDOWS 10
How to find a stolen and reset phone - anti-theft applications
How to steal card data, phone even through clothing
Wireshark, stealing passwords on free wi-fi networks
How to stop behavioral advertising, advertising that reads our thoughts - video tutorial