How can you see IPTV posts on your PC?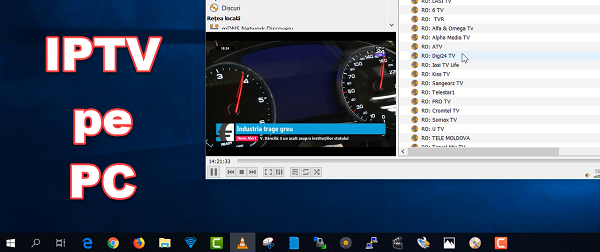 How can you view IPTV posts on your PC?
If last time I showed you how to watch Romanian TV stations on android in sop to http, today we will do something different on the PC.
How to watch IPTV on PC
This is simpler than you can imagine. All we need is a player and a playlist that we'll talk about immediately. But before we need to know what IPTV means.
What is IPTV?
IPTV comes from Internet Protocol Televisionin the standard that uses the Internet to transmit the flow of moving images.
Even now some of you have set top boxes in the house that also work with IPTV technology.
How can you see IPTV with your computer?
We do not need set top box because we have a VLC media player that is capable of decoding and displaying IPTV data streams.
Why do we need?
1. VLC media player
2. A list of IPTV channels
VLC Media Player is free and anyone can install it, unfortunately IPTV channel lists have to be purchased for yourself, because it would be illegal to post a list here.
What do we need to know about watching IPTV on PC?
If with VLC the job is relatively simple, channel lists have to be discharged almost daily, because some old channels do not run after some time.
Related Tutorials:
How to View IPTV Posts on PC - Video Tutorial