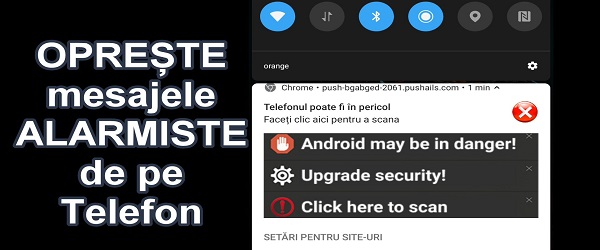 About this video tutorial How to stop receiving notifications?
How to stop receiving notifications on Android. Not many of us have been hit by avalanches of notifications that appear out of the blue, and never stop. The video tutorial will show you where these notifications come from and how we stop them.
How do we get these notifications out of the blue?
How nothing happens in this world, either notifications these do not come out of the blue.
On some sites, gray sites, as I call them, are greeted by all kinds of "lizards" that appear when we want to do a predictable action.
How is the scam going on the "gray" sites
Example: I went to an online movie site and the ad runs in the player, and that ad has a button on the bottom right, like "Close ad". This button is not what it seems, because 2 seconds after it appears, just above it appears a notification subscription pop-up.
In order for our automatic ad skipping mechanism to work, we will want to click on "Close Ad" and then BUM, click on "Accept" button to subscribe to notifications.
True "magic", hocus pocus and you are a subscriber
Everything happens in fractions of a second, so you don't realize what you did, because these gray sites have a kind of bridal dance with lots of tabs and windows, that don't make you dizzy, spell you, like a scammer amazes his viewers with the movements in his hands and the activity on the stage.
How to stop receiving notifications?
We have possibilities for you:
Below each notification we find a settings button, which if entered will find the individual options for each site that sends us notifications.
If you have too many sites sending notifications, then go into the Google Chrome settings or browser settings you use and find the notification settings there.
Related tutorials or ...
Video tutorial - How to stop receiving notifications on Android