How not to infect infected sites and viruses - sandboxie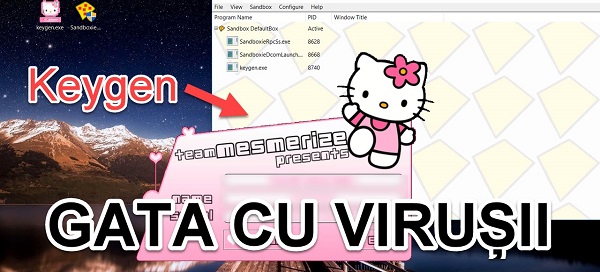 How not to infect infected sites and viruses - sandboxie
In the last few years, people have to do with viruses, spyware and other malicious new programs that have become more and more sophisticated and can hardly be intercepted by an antivirus.
Antivirus programs treat us like sheep!
I do not know if you have any idea how an antivirus program works. If you do not know, I will tell you, because it is quite interesting the method that large IT security companies apply.
First of all we are treated like a flock of sheep, and the wolf is the virus.
We are collateral victims.
From a few flocks, the virus will attack one computer at a time. Infected computers will report to the base, and the specialists there will try to find solutions for the annihilation of the virus as soon as possible. More precisely, the sheep on the edge are sacrificed, so that the ones in the middle live.
The alternative is more promising but requires some effort and resources.
In this tutorial, I propose using Sandboxie, which runs the applications we choose in a virtual environment that is totally isolated from the system. That means nothing in the sandbox can affect the computer.
We were waiting for the problem to occur or we were pretending.
antivirus:
With antivirus it's like waiting for something to happen to you or a neighbor, that is, you have to wait for the hot one to come.
Sandboxie:
With Sandboxie, you build a trap that the hell can not escape and where it will fall from the beginning.
If we give up some comfort, we'll be safer.
If the government and the society ask you to give up freedom for comfort and safety, I ask you to give up some comfort for your safety and intimacy, which will bring you closer to freedom.
The Sandboxie application requires a couple of extra three clicks, but it will give you peace of mind.
Why we can use Sandboxie
Even if you don't want to use Sandboxie for absolutely any application, at least use it for dubious applications and suspicious sites. That is, if you enter videotutorial.ro it doesn't make sense to use Sandboxie, but if you visit a site…, then you should kind of enter there with a browser launched in Sandbox.
(Official site)
Tutorial with similar topic:
How not to get infected on infected sites and infected applications - sandboxie - video tutorial