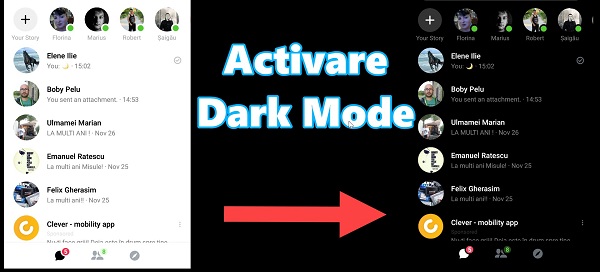 How to Turn Dark on Facebook Messenger
What is Darkness in Applications?
Dark mode is basically an application theme, the dark theme that comes with a black or dark gray background and is meant to do two things:
Protects your eyes from excessive screen light, being an extremely useful function at night or in low-light environments such as cinemas or shows where it is not good to disturb others.
Save energy by minimizing the screen for AMOLED screens. Amneses are known to consume more in open colors than in dark colors.
Do not mess Dark Mode with Night Mode
If above I saw dark mode, in other situations we can also find a Night Mode.
Night Mode is the function by which the color temperature displayed on the acran changes from a cold or neutral temperature to a warm temperature where the blue is minimized or even removed from the color component.
Night Mode eliminates the percentage of blue in color, eye protection, but also to help the body prepare for sleep.
As blue color is known at night, it inhibits the production of melatonin, which is the sleep hormone.
How to Turn Dark Mode on Facebook Messenger
Do not expect to find the Dark Mode option in the menu.
It's a little trick that needs to be done to turn dark mode on messenger.
Make sure you do the latest version of Messenger
Open messenger and start a conversation with anyone
Open the Emoji and look for the crescent
Send the crescent in the conversation window
After it's raining, you'll have the confirmation that Dark Mode is activated
Go to settings and activate Dark Mode
Related video tutorials
How to activate Dark Mode on Facebook Messenger - video tutorial