How to enable Ultimate Performance on Windows 10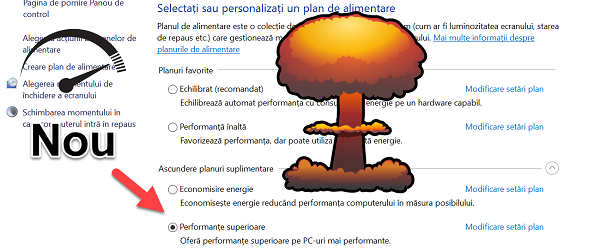 How to enable Ultimate Performance or High Performance on Windows 10?
Windows Power Modes
As we all know, Windows has three basic power-ups, of course, which can be added to those created by the user.
The best way is High or High Performance.
The new Superior Performance or Ultimate Performance mode
A new mode is available in the 1803 update for Windows 10 but is not enabled by the base. This mode is called Upper Performance or Ultimate Performance, and wants to improve PC response time.
How to turn on Ultimate Performance mode.
If we throw an eye on the power options, we will see that there is no new power. We need to activate it with an order.
Command that enables High Performance or Ultimate Performance:
1. Open CMD with admin rights
2. Order: powercfg -duplicatescheme e9a42b02-d5df-448d-aa00-03f14749eb61
3. press Enter and ready, the new mode is in the power options
Performance on Windows depends on many things.
First you need to change the HDD with a SSD, if you did not. SSDs will improve your workflow incredibly.
If I would recommend a single upgrade for any computer, it would certainly be SSD.
Even on the laptop can be upgraded. if you do not have one M2 slot, then you can place an SSD, besides the laptop hard drive, using a caddy that will allow it mount an SSD or other HDD instead of the optical drive.
That's what it is. Do not forget, please leave me with your views on the new High Performance mode. How it looks, how to move, etc.
UPDATE:
1. I felt a better boot speed.
2. External HDDs are accessible when you want to access data from them. Before, the external HDDs were delayed because they did not spin until they were accessed.
How to enable Ultimate Performance mode on Windows 10 - video tutorial