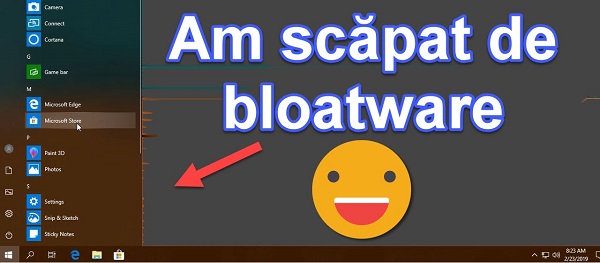 How to clean Windows 10 from unwanted apps and services
In today's video we'll see how to uninstall all unnecessary applications in Windows 10 Pro.
What does bloatware mean?
Bloatware are those applications pre-installed by the manufacturer and you, as the end user, are useless, you do not want them, do not use them and you do not want them.
Unfortunately, the Windows 10 operating system comes with a bunch of such applications and we'll see how we can uninstall them using a PowerShell script.
Why use a PowerShell script to uninstall unwanted applications from Windows 10 Pro?
The answer is simple. Because only in this way we can get elevated rights to the system and we can put with the Windows 10 Pro operating system restrictions.
Can I get back to the Windows applications and settings before running the PowerShell script?
You can always go back to the settings and applications that the PowerShell script has disabled and deleted by simply running it again.
What apps and services disable the PowerShell script?
This is the list of applications that the PowerShell script removes:

3DBuilder,
Appconnector,
Bing Finance,
Bing News
Bing Sports,
Bing Weather,
Fresh Paint,
Get started,
Microsoft Office Hub,
Microsoft Solitaire Collection,
Microsoft Sticky Notes,
OneNote
OneConnect,
People,
Skype for Desktop,
Alarms,
The room,
Maps
Phone,
SoundRecorder,
XboxApp,
Zune Music,
Zune Video,
Windows communications apps,
Minecraft,
PowerBI,
Network Speed ​​Test,
Phone,
Messaging,
Office Sway,
OneConnect,
Windows Feedback Hub,
Bing Food And Drink,
Bing Travel,
Bing Health And Fitness,
Windows Reading List,
Twitter,
Pandora,
Flipboard,
Shazam,
CandyCrush,
CandyCrushSoda,
King apps,
iHeartRadio,
Netflix,
DrawboardPDF,
PicsArt-PhotoStudio,
FarmVille 2 Country Escape,
TuneInRadio,
Asphalt8,
NYT Crossword,
CyberLink MediaSuite Essentials,
Facebook,
Royal Revolt 2,
Caesars Slots Free Casino,
March of Empires,
Phototastic Collage,
Autodesk SketchBook,
Duolingo,
EclipseManager,
ActiproSoftware,
BioEnrollment,
Windows Feedback,
Xbox Game CallableUI,
Xbox Identity Provider, and
ContactSupport
And the list of services you disable:
XblGameSaveTaskLogon,
XblGameSaveTask,
consolidator,
UsbCeip,
DmClient,
The telemetry service that assumes Windows sends information and data to Microsoft,
Cortana,
OneDrive
I run the settings made by this PowerShell script on my personal laptop for over a month and I can tell you that running it does not affect the proper operation of the Windows 10 Pro operating system.
The link from which you can download the script presented in the tutorial:
https://github.com/Sycnex/Windows10Debloater
.
Similar tutorials:
How we do cleanup and free space in Windows
Clear space clearing WINDOWS duplicate deletion
Tutorial Memory Map, a disk cleaner for Android smart
Video tutorial - How to clean Windows 10 of unwanted applications and services