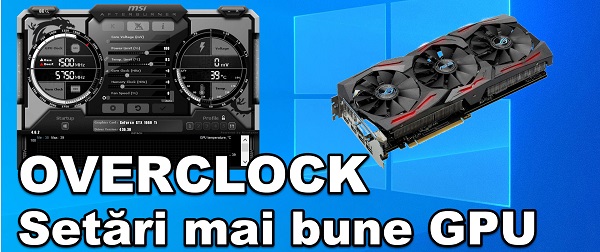 What is the tutorial "How to overclock the video card"
How do I overclock the video card? Overclocking means increasing the frequency of a component.
In this tutorial you will see not only how to overclock, but also how to view graphs with live hardware statistics on the screen during games.
What does overclocking mean, what is overclocking?
Overclock means "over the clock", or "frequent overtaking of the clock". In human terms, "overclocking means accelerating the processor."
Each processor has a clock cycle and a number of cycle instructions that it can execute. To increase the performance of a processor we can either increase the number of instructions per clock, or decrease the cycle in which these operations are performed.
As the number of instructions per clock or cycle cannot be changed, because these are factory set, we have only to reduce the time they are executed. That is, we should speed up the processor, that is, overclock it.
Overclocking is harmful
If done properly, overclocking will bring us performance enhancements.
If, on the other hand, the basic rules are not respected, such as: good component cooling, using a quality source, then overclocking can become uncomfortable.
There is also the danger of component damage, but nowadays any processor or graphics chip has protections that automatically stop the power supply before it gets too hot.
There are also problems with video cards with manufacturing defects, and here I am referring to the faulty attachment of the video processor or memories to the PCB of the video card, which in time, due to the high temperatures can be detached from the PCB. But this is what happens to the plates with weak coolers.
How do we overclock the video card?
To overclock the video card we will use a free program called MSI Afterburner.
It also comes with the Riva Tuner Statistics Server, which helps us to display on the screen the statistics hardware frequency, GPU temperature, CPU RAM, FPS, etc, etc.
Where do I download MSI Afterburner?
Related video tutorials:
Video Tutorial - How to Overclock Your Video Card