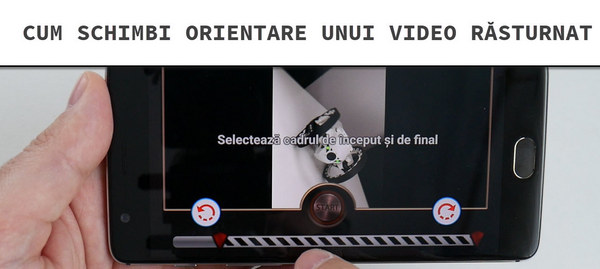 What is the tutorial about "How to return an overturned video on the phone"?
Sometimes filming on the phone or other camcorder is misdirected, that is, overturned. If in the sports cameras (GoPro), the wrong orientation results from mounting the cameras in some strange, deliberate positions (under the frame, at the machine bar, etc); on the phone, we have a problem with the return of the phone from the reflex, from the portrait orientation to the landscape.
How often do we make a misleading video
Personally, I only have two or three pictures made in the wrong direction. In others, however, I have seen a lot of overturned shots in the phone.
My brother showed me some time ago a movie with his new fence. Of course the shooting was made in the wrong direction. I remember that I wanted to see the work with the fence (as I want it) and I did not succeed, because the video was noticed no matter how I kept the phone.
Why is filming turned on the phone?
It's simple. Generally when we remove the phone from the pocket to unlock it, it is a portrait mode. If we hurry to film something quickly, and I press the REC button while the phone is a portrait mode, the movie is locked in the portrait mode. After we start filming without realizing, we turn the phone in landscape mode, and here chaos starts, because we turn the phone, but the movie is locked in portrait mode.
Why does not she return automatically during filming?
When I press the REC button, the phone sets a video format. Either portrait, or landscape. And this format can not be changed during filming.
When we want to watch the movie we fill our nerves.
It's normal to get angry, because we want to watch the movie and the phone does not show us the video well, no matter how we keep the phone. The accelerometer seems to be doing the opposite, when we turn the phone, it turns the video on, and it's all over, but he's doing the right thing.
Do we fix the overturned video?
With Rotate Video FX!
We have the following options in place:
1. Turn video at 90 degrees left or right
2. Cut video from the beginning or end (only works in "Normal Method")
3. Fast Method mode for fast video reversal (does not work on any phone)
4. "Normal Method" mode for maximum compatibility and video cropping
Download Rotate Video FX (Play store)
Related tutorials:

How to return an overturned video on your phone - video tutorial