Hi friends, in today's tutorial will show you how the jacks are mounted on a UTF-type cable net, FTP, STP.
It's good to know this because in general the services we offer craftsmen in the field can be expensive, also from the time you reported a problem with the cable, it takes some days to reach 2 3-team and you.
Why do we need?
1. Special crimping pliers for cable UTP, FTP, STP.
2. Ethernet jacks with contact 8
3. UTP, FTP, STP (long distance best FTP or STP)
The process is simple, you must arrange the wires before placing them in the plug and crimping it.
T-568B color code: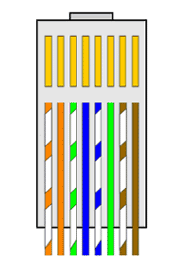 Before inserting the cables in the socket, we have to "cut" them a little, so that they also have a nice "bangs", otherwise it is possible that some cables do not make contact with the slats of the socket.
I don't think I have to tell you that this operation is done for both ends of the cable…
Remember, if you have suggestions, complaints or additions do not hesitate to write in the comments box, de-also if you met the comments box a user has a problem and you can help him, do not hesitate to do it, the only way we can do this place better, see the comments box!
On the comments box trying to get somewhat on the subject so other visitors can offer a tutorial + comments relevant comments may be extra support for user errors, or desire to learn.
Before asking a question try looking through the comments oldest, most times there already answered your question.
Use more categories at the top of the site and the search engine from the right corner to quickly get to what you are interested, we have over 800 tutorials that cover almost every genre of software, we have realized, I you just have to search for them and watch them.

Instructions for use videotutorial.ro

Search Engine.
If for example you have a problem with Yahoo Messenger, you can enter in our search engine terms like Yahoo, Mess, Messenger, id mess, multimess problem messenger, messenger error, etc., you will see that you will have a choice.

Categories.
If you use category drop-down, they find the bar under Home categories: Office, Graphic-Design, Hardware, Internet, Multimedia, Security, System, Storage, Backup, under these categories are organized sub-categories and sub-sub -categorii, that's a more accurate filtering. To find something related to Yahoo Messenger using the categories you can lead the category:InternetThere will open other subcategories where you choose Voice-ChatFrom there you can go on the subcategory YahooFinally, with these filters will arrive on a page where the only items related to Yahoo Messenger or Yahoo Mail.

Archives.
On the page Archives You can find all our tutorials organized beautiful days saptameni, months and years.
Everything is logical, just follow the logic.
Enjoy !
by Cristian Cismaru