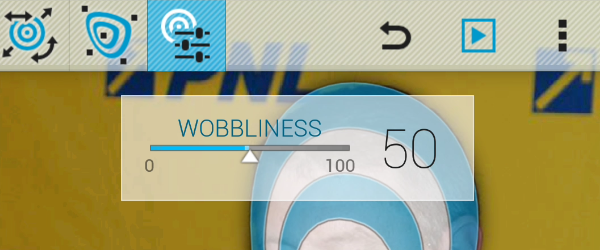 How to animate Klaus Iohannis' head - animated wallpaper tutorial

In today's tutorial we will use an Android app that will help us animate a part of an image, after which the animated image will become a wallpaper.

Why did I choose Klaus Iohannis?

He is the most important man in Romania and I thought he was definitely not upset. Who was I to use as a model? I thought of Guță, but….
Off topic:
The writing correction software offered to correct my word Guta above, for I had written Gut. You realize how famous this man is; Even artificial intelligence knows it. I'd better go with Guta's image, I'd have made more views.

What is the image animation application called?

AndWobble is called and found in the Google Play Store. The AndWobble app is free.

What does AndWobble do?

This application helps you put some areas on certain parts of the picture, which will seem to move. Practically the image will look like a shave when we move the phone or touch the screen.
On any image of yours, you can put this wobble effect, which will give the impression of jelly or piftie… or silicone.

Which areas of the image can be animated?

Any area can be animated, but we also have to keep in mind physics. I mean, it's pointless to shove a man's shoulder, because the shoulder does not usually give up.

Parts of the body that usually come into the dust.
1. sledges
2. buttocks
3. Head
4. Stomach
5. hands
6. feet
Why I did not use a picture of breasts in the tutorial.

He was doing traffic, because our monkey's mind was looking with its eyes, but it was too clickbait and in the end… .it seems more funny is Klaus. Now to be honest, with Klaus Iohannis it's kind of a clickbait, but that's lighter.
How to apply apply effects to images with AndWobble?

It's very simple; The application is extremely simple and intuitive. Once you have watched the tutorial, in maximum 5 minutes you will be expert. See the video tutorial!
Download the photo editing application (AndWobble)
How to animate Klaus Iohannis' head - animated wallpaper tutorial - video tutorial