How to put a wallpaper on the Android keyboard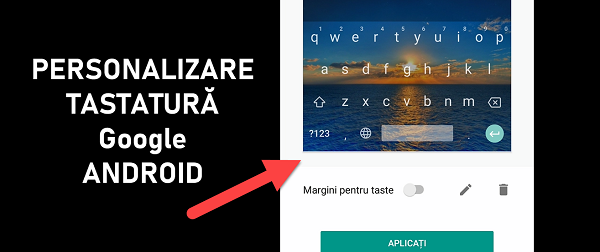 The Gboard Keyboard gives us options

How to put a wallpaper on the Android keyboard with the Gboard keyboard? We'll use a picture, texture, or any image instead of the solid color on the background of the keyboard. This tutorial is for those who are the fans of personalizing the phone.
Why use the Gboard keyboard on Android?

The Gboard or Google Keyboard, as it was known in the past, is the official keyboard from Google.
Because it is the official keyboard from Google, it has maximum compatibility with the android operating system, a very good integration with all services and applications.
The Google keyboard is more "trustworthy" than other keyboards.

What does the Gboard keyboard mean "more trustworthy"? You see, keyboards are called "input devices", ie data input devices. On phones, the keyboard and the touch screen, which acts as a mouse, along with the sensors and the microphone, are devices for entering data into the phone.
A Google Gboard app because it is a "Google" keyboard is preferable to a third-party keyboard, because Google is an entity that still has a lot of data about you. What's the keypad input now?
Why other keyboards would not be trustworthy?

Any application (and the keyboard is an application) can send data to the "base", the chips for "improving products and services". So why trust some developer that he will not collect and use my data. At least Google already knows everything about us, what does the data from the keyboard also matter?
How to put a wallpaper on the Gboard Android keyboard?

In Gboard settings you have: Teme - Click here + and add a picture, then just center it, adjust the contrast and choose whether you want visible or camouflaged keys. Save and rejoice.
You can use any kind of picture, picture, texture or wallpaper.
Do not have the Google Gboard keyboard?
Download the Google Playstore Gboard Keyboard (Android)
Download Google Gboard from Appstore (iPhone, iPad)
Keyboard Tutorials:
How to put a wallpaper on the Android keyboard - video tutorial