How to change the basic application to open files on Android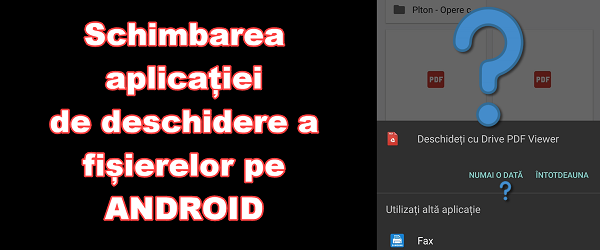 How to change the basic application to open files on Android
A computer does not know what we want to do when we click on a file to open it.
Let's say we have a video file that we want to open with VLC media player. Your computer or mobile phone needs to know the basic path of opening files, that is, a rule the user requires and the PC or the phone must follow.
How do I open a file with another app?
If on Windows is simple, than right click / open with / and choose from list; on Android we can not do this so easily; it can but is more complicated.
How do I choose the basic path for opening different file types?
On Android, like this is the operating system in question, we will see that whenever we open a file for the first time or install an application that can open that file type, we get a dialog where we can choose the application that opens the "only once" or "always" file.
The error that many do.
When that dialogue occurs, the user hurries and makes the choice that will give him peace in the future. Unfortunately, once the "always" button is pressed, every time that file type opens with that application.
How do I change the default opening PDF, mp4, jpg, etc?
The Android operating system, after showing us the opening dialogue of the app, which we always chose, decides to "crown" that application as the top manager of such files; and from here on, all files will open with the "crowned" application.
The solution is simple! Goes to the application settings and deletes default values.
... see video tutorial!
Related Tutorials:
Clear space clearing WINDOWS duplicate deletion
How to Change the Basic Application for Opening Files on Android - Video Tutorial