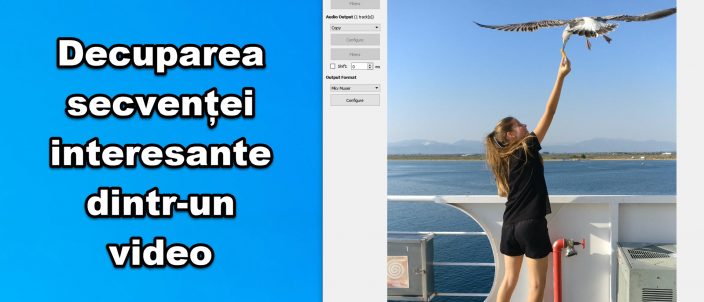 What is the tutorial "Cutting the interesting sequence from a video"?
In this video tutorial (Cutting the interesting sequence in a video) you will see how to cut a sequence in a video, whether it is at the beginning, the end or the middle of the video. You will also see how a video is rotated, in case it was filmed overturned or overturned in the editor.
Why would you want to cut a sequence from a movie?
Most of the time we film with the phone phases that happen unpredictably, and to catch an interesting phase that is going to happen, we start filming early. That's why for a phase of only a few seconds, we get to film a few minutes.
Apart from the interesting phase of the video we have no interesting events, which is why these uninteresting frames can be eliminated.
Capture the interesting sequence from a video.
We can use commercial video editing applications, but they are expensive, more difficult to use and in addition require large disk space when installed.
Avidemux, is a free application, does not collect data and is easy to use.
Avidemux is the kind of "old school" applications that do not invade your privacy by collecting data "to improve products and services", it is free and easy to use.
The Avidemux application is so cool …… but unfortunately no one uses it, because such applications are not promoted.
If I were to make an analogy, I would say that Avidemux is very clever, but nobody wants it.
In addition Avidemux is a cross platform application, which means it runs on Windows, Linux and even MacOS.
Download link Avidemux
With these more "old school" applications, you also have small plugs.
The only problem I encountered when cutting the video sequence was that it was rotated, being shot in the portrait, it went into the landscape and forced me to use the settings to fix the situation. In fact, the problem is a minor one, which can be neglected having a quick solution even from the application options.
Similar tutorials
Cutting out the interesting sequence from a video - video tutorial