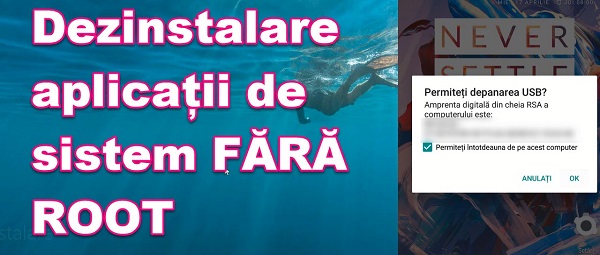 What is uninstalling root-based system applications?
System apps are those apps that come preinstalled with your phone and can not be uninstalled so easily. Uninstalling root-based system applications is required because root is in violation of the warranty terms, so if you root your phone, you may have warranty issues if the phone fails.
Why do we need to uninstall root-based system applications on Android
First of all, you obviously need the phone, after which:
Data cable
A PC, desktop or laptop
USB Drivers for Your Phone (see below)
Platform Tools (see below)
Uninstalling root-based system applications, instructions
ATTENTION:
Before any uninstallation, it is recommended that you back up the applications you want to uninstall.
On your phone, enable USB Debugging in Settings / Developer Options
On your phone, look for the name of the app you want to uninstall with Package Names Viewersee below)
Connect the phone to your PC using the data cable and make sure that you have installed the USB drivers (see below)
On the PC, unzip Platform Tools on the desktop, enter the unzipped folder and simultaneously press "Right Shift and Right Mouse Click", choose "open PowerShell window here" or "open CMD here".
In the PowerShell or CMD window give the command "adb devices"
If the number and device do not appear, it means that you have not installed the USB driver correctly, as well as if the device number appears next to "unknown" instead of "device"
If after order "adb devices"The number and" device "will appear correctly, you can proceed with the command"adb shell"
Now the phone is ready to listen to your instructions.
To uninstall an application, give the command "pm uninstall -k –user 0 com.google.android.apps.photos"Where instead of"
com.google.android.apps.photos "Enter the name of the application you want to uninstall.
Related:
Uninstall rootless system applications - video tutorial