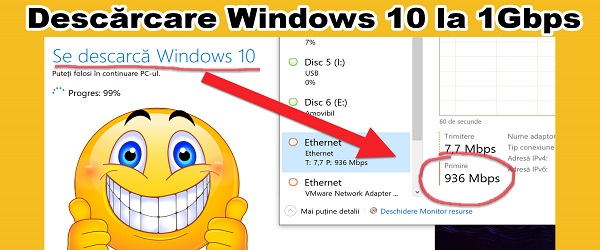 What is the original Windows 10 Download tutorial for installation?
Download the original Windows 10 for installation is the first in a series of tutorials dedicated to installing and configuring Windows 10 in 2021.
Even if they are still on the videotutorial.ro website tutorials on installing Windows 10, there is a need to update the information. That's why I chose to do a new series of tutorials on installing Windows 10.
The first tutorial on installing Windows 10
The first part of the series of tutorials on installing Windows 10 is to download the original ISO image and make the USB stick from which we will install the operating system.
Where to download original Windows 10 with 1 Gigabit per second?
The original Windows 10 ISO image can be downloaded from:
NU it is recommended that you download from elsewhere, apart from the link above, or other official links, because you have all the chances to choose yourself with spyware in your PC, which will subsequently be difficult to detect and remove.
What do we download via the link above?
In fact, through the link above, do not download the ISO image, but the Media Creation Tool, which is a small software with which you can finally download the ISO image or make the USB stick with Windows 10 on it, for installation.
What is Media Creation Tool and why is the ISO image not downloaded directly?
Media Creation Tool, in addition to a direct link to the ISO image, ensures that we download the latest version of Windows 10 and helps us to make a USB stick or a DVD with Windows 10, after which to do the actual installation.
… The series follows
Windows installation tutorials, drivers, maintenance, etc
Video tutorial - Download original Windows 10 for installation