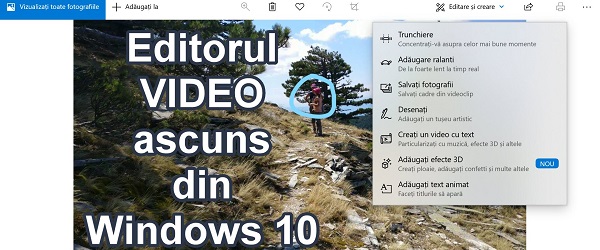 What is the video tutorial hidden video editor in Windows 10?
In the Hidden Video Editor tutorial in Windows 10, this is a small video editor that is already installed in Windows 10, and with which you can perform simple video editing tasks.
This editor is a good force, especially for those who normally do not use a video editor, but sometimes need a few minor changes to the video files.
Where do you find this hidden video editor through Windows 10?
This video editor from Windows 10, we can access it through the start menu or the context menu.
Click dreapta pe fișierul video / Deschide cu / Fotografii
After opening the video file with the application Photos, a video player will open, and at the top of it we will see a button called Editare și creare
It's not iMovie or Adobe Premiere, but you do your job with it
Don't think we have a top non-linear publisher in front of us, no, it's just a collection of simple tools with which we can make small changes. But sometimes that's just what the user needs.
Among the simple options available we can find:
Truncation (sequence cutting)
Slow motion (for slow motion)
Save photos (save photos from video)
Draw (motion tracking on video)
Create a text video (text on video)
Add 3D effects (different effects over video)
Add animated text (animated text that appears to move and disappear)
Is video quality affected after editing?
The video quality of the edited and exported files is the same as that of the original file.
The pictures exported are also at the highest quality that the video file has. The quality at saving the images in the video is even better than in the case of a screenshot.
Even though sometimes you will notice that the image is not good at editing, this is because of the live preview. Upon final export, the quality will be identical to that of the original file. So no quality is lost at all.
Related video tutorials:
Hidden Video Editor in Windows 10 - Video Tutorial