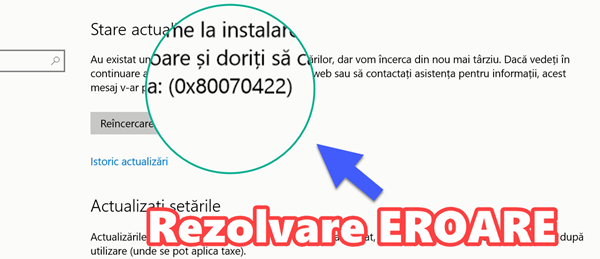 Resolve error 0x80070422 in Windows Update or other services - TUTORIAL VIDEO
The error (0x80070422) appears if changes have been made to certain settings in Windows.
What is the error (0x80070422)?

In my case, this error occurred on Windows Update, and no update can be made to Windows.
The "0x80070422" error can also occur with other services or even when installing certain Windows update packages.
Error Resolution 0x80070422.

We get rid of this error if we start the service that is stopped; In my case, Windows Update is no longer working, and when the Windows Update service starts, the error has gone away and Windows Update has started to work.
How Do We Start a Stopped Service on Windows?

Pe Desktop / click dreapta pe "Acest PC" / Gestionare / Servicii și Aplicații / Servicii / "serviciul" Windows Update / dublu click / in tab-ul "General" alegeți "Startup type" Automatic / Apply (se aplica) și OK
Error 0x80070422 on Windows Update or other services - video tutorial