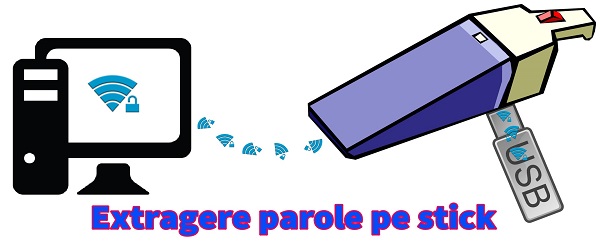 What is the video tutorial Extracting wi-fi passwords from a USB stick?
In this video tutorial, Extracting Wi-Fi passwords from a USB stick, I will show you how to extract all the WI-FI passwords from your PC, directly on a USB memory stick, in a few seconds with a single command in CMD.
How fast can I type passwords from my PC on a USB stick?
The whole thing takes about 10 seconds or less. Depends on how fast we move.
In principle I just have to place an order and ready.
Why do we need a USB stick for removing Wi-Fi passwords?
Access with administrator rights to the respective PC
An USB stick or external hard drive
For a few seconds, to modify and execute the command
How does copying passwords from PC to stick work?
Steps:
Insert the USB stick into your PC and see what the letter has (D, E, G, etc.)
Open DCM as administrator and enter the command netsh wlan export profile folder=D:\ key=clear where "D"Must be replaced with the letter that the stick has
press Enter and all the profiles of the stored Wi-Fi networks, along with passwords, will go away
What to do so that other people don't "subtilize" our passwords?
Don't leave anyone on your PC or just leave it on your GUEST account
Protect your account with your password
Use your PC with ordinary user rights, not admin.
recommended tutorials below…
Security tutorials, passwords:
Wireless Video Words Tutorial:
Extracting Wi-Fi passwords on a USB stick - video tutorial