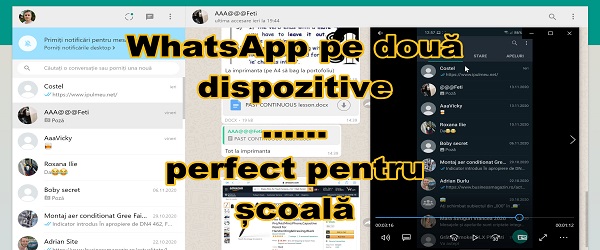 What is it about in the tutorial Using WhatsApp account simultaneously on two devices?
In the video tutorial Using WhatsApp account simultaneously on two devices I will show you how you can use WhatsApp on other devices, apart from the phone on which it was registered.
Why did we need to use WhatsApp on other devices, if we already have it on our phone?
Lately, with the introduction of online courses in certain areas, children sometimes need to receive on WhatsApp various links, documents, messages from colleagues or teachers.
As children generally use tablets, laptops or even desktop systems to study online, it is quite complicated to copy the links on the phone.
The solution is to access WhatsApp right from the device they use for online courses.
WhatsApp does not allow the use of an account on two devices
WhatsApp can only be used on one device, ie the device we have registered.
Fortunately, there is an alternative to use WhatsApp on your phone and tablet or on your phone and laptop at the same time.
WhatsApp WEB is the mouthpiece for those who want to use WhatsApp on a second device.
Even if we can't use a WhatsApp account on two devices at the same time, we have a backup solution that WhatsApp provides us.
WhatsApp Web is a method by which you can access WhatsApp in a browser window, on the second phone, tablet or even PC.
How to use Whatsapp Web?
On the second device you want to access WhatsApp, visit the address https://web.whatsapp.com (on the tablet and phone activate the "Desktop" version)
A QR code must appear on the screen
On the phone where you have the WhatsApp application installed and registered, select WhatsApp Web from the menu and scan the QR code on the screen of the second device.
That's it, now you will have the Web version of WhatsApp on the screen
Bonus, get rid of spies with WhatsApp Web!
Because WhatsApp Web can only run on one device by recording a WhatsApp web session yourself, you are sure that no one else has recorded a WhatsApp web session when you have your phone on hand.
Other tutorials about WhatsApp
Video tutorial - Using WhatsApp account simultaneously on two devices