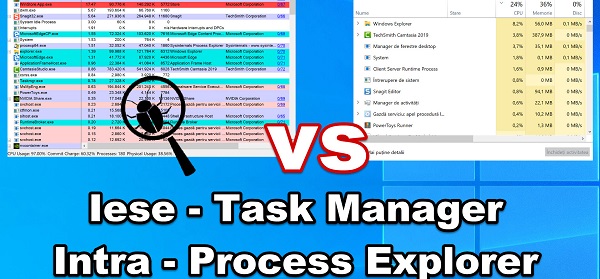 What is the "Find Viruses Without Antivirus Process Explorer" video tutorial?
In this video tutorial (Find viruses without antivirus process Explorer) you will see how to replace Windows Task Manager with Process Explorer, which is net superior, and how to detect viruses from your system without antivirus.
Why replace Task Manager with Process Explorer?
The Task Manager in Windows or the Task Manager in Romanian is a Windows application that tells us what is happening through the system, how much processing power each application uses, how much memory, how much disk each application requires, how much net speed and other details about applications and processes running in the background.
Although the Task Manager provides us with information on what is happening in our Windows-one, it does not go into much detail, and we need these details when we have problems and we want to find out where these problems come from.
Why is Process Explorer better?
Although Process Explorer is also a Microsoft software made for Windows, it has many more features and gives us much more details about the processes and applications that generate them.
If sometimes, when you want to have a clean and simple interface, "less is more", when diagnosing "more is more" problems. You need every detail to find the problem.
Process Explorer finds viruses without antivirus (viruses).
A great advantage that Process Explorer offers to the user is the function of scanning through the Virus Total platform all the applications and processes running on the PC.
Total Virus is a platform that uses almost all anti-virus scanning solutions for scanning applications and processes. In Romanian, Virus Total scans with all antivirus software at once
How do I change the Task Manager with Process Explorer?
In the menu under "Options" you have the option "Replace Task Manager"
How do you get back from Process Explorer to Task Manager?
Launch CMD with admin rights and order:
reg delete "HKLM \ SOFTWARE \ Microsoft \ Windows NT \ CurrentVersion \ Image File Execution Options \ taskmgr.exe"
and to confirm, press the key "y"Then the key"Enter"
Where do I download Process Explorer?
Related Tutorials:
Clear space clearing WINDOWS duplicate deletion
How recover the license key to activate Windows 8 and 8.1
Wireshark, stealing passwords on free wi-fi networks
Video Tutorial - Find viruses without Process Explorer antivirus