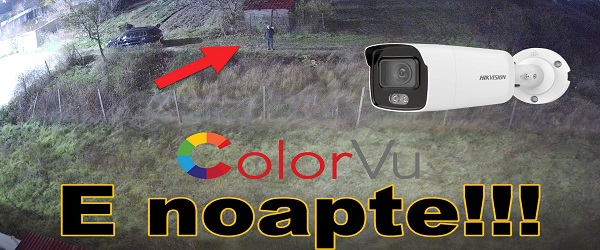 What is the ColorVu Surveillance Camera at Night Surveillance tutorial about?
In this tutorial "Color images at night surveillance cameras with ColorVu" I will introduce you to one of the new ColorVu cameras from Hikvision. Rooms that can see in color at night.
What is ColorVu?
Technically, ColorVu is not a specific technology but is a marketing term for labeling surveillance cameras with hardware features that make them more sensitive than other surveillance cameras at night.
What makes a ColorVu camera from Hikvision different from other surveillance cameras?
After careful inspection, we identified two hardware specifications that stand out when comparing ColorVu cameras with other surveillance cameras.
Large sensor size:
Compared to most cameras in the same price range, the tutorial camera has a 1 / 1.8 ″ (9mm) sensor compared to 1/3 ″ (6mm) sensors, which means

Very open aperture:
The opening in front of the sensor, which allows light to reach the sensor, is very large. In our case the ColorVu camera has an aperture of f / 1.0, in addition to f / 1.6 or even f / 2.0 for the other cameras.

Why is the ColorVu camera better?
In general, most surveillance cameras at night have a very poor image quality, because they shoot in night mode and the images are illuminated by infrared LEDs.
The images recorded in infrared light are black and white and without details.
When using images to identify an event that occurred during the night, many essential details are missing from the filming, such as the color of the clothes, the color of the cars, the registration number, etc.
ColorVu films the night as well as the day, in colors and manages to capture more details.
Where can I find ColorVu rooms?
The tutorial camera - Hikvision DS-2CD2047G1-L-2.8mm
Other ColorVu rooms - ColorVu cameras on emag
Surveillance cameras tutorial:
Video tutorial - Color images at night surveillance cameras with ColorVu