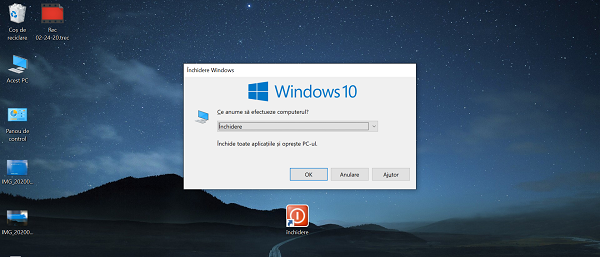 What is the Quick Computer Shutdown tutorial including open applications?
When I say fast computer shutdown including applications, I mean fast PC shutdown without dialogs, no matter what documents or applications are open in the background.
There are presented some methods that complement the classic method of shutting down the computer.
Methods of fast computer shutdown including open applications
Button method. Of course, you will not press the button directly. First go into the control panel, power options and here's what to do on the PC button when you press it.
Alt + F4 method. This is a quick option to close applications, but when applications are no longer open, you will see a close menu, and from there, choose what happens when you press Alt_F4 and Enter.
The method of a custom forced shutdown shorcut. This is the method I like the most, because it forcibly closes windows and applications in the background without displaying any dialogs anymore.
How do we make a custom shortcut for the forced shutdown of the computer and applications in the background with a single click?
Right-click on desktop / New / Shortcut
Under "Type the location of the item, enter one of the two codes: shutdown.exe -s -t 00 -f or with a comment: shutdown.exe -s -t 05 -c "mesajul tau" -f more information
Click "Next" and name the shortcut here
Optionally you can also enter the shortcut properties to change the icon
From now on, when you double-click on this shortcut, the PC will shut down, without asking you anything else.
What do I do if my PC still shuts down?
Steps you can take to make your PC shut down faster:
Check in Bios (1 - 2), as it is possible to have options that speed up your PC's startup, but which also help a faster shutdown
Use one SSD for the system
Check to see if certain applications are running from slow hard disks, which makes it difficult to write (save) files.
Uninstall the useless applications and do it yourself PC cleansing
Change the antivirus if you think you are a big resource consumer
Open fewer tabs in your browser
Related tutorials:
Video tutorial - Quickly shut down your computer including open applications